Douglas Vinter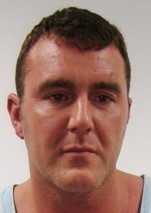 | | |
| --- | --- |
| AKA | Gary Vinter |
| DOB | 1970 |
| Occupation | Signalman |
| Kill Total | 2 |
| Kill Place | Middlesborough |
| Kill Date | 1995 & 2008 |
| M.O. | Stabbing & Strangulation |
| Victim | Carl Eden - 22. Anne White - 40 |
1996, Vinter was convicted of murder, having stabbed to death train worker Carl Eden, aged 22, in a Middlesbrough railway cabin. At the time, Vinter had been working as a railway signalman.
He served nine years in prison for Mr Eden's murder before being released and moving to Teesside.

1997, a year after being released from prison, Vinter married Anne White, but they separated after seven months as their stormy marriage had seen 6':7 tall Vinter attack his wife at least twice.

11th February 2008, Vinter murdered his 40-year-old wife at his mother's home in Teesside. He strangled and stabbed her to death while high on drugs and alcohol.

21st April 2008, Vinter admitted his wife's murder at Teesside Crown Court. He was sentenced to life imprisonment and the trial judge recommended that he should never be released from prison. Vinter is on the Home Office of 'Whole life prisoners, see list Here >>.

25th June 2009, Vinter loses an appeal against his whole life sentence at the High court in London.

July 2011, Vinter attacked child killer Roy Whiting, the killer of Sarah Payne. Whiting did not press charged and Vinter denied the charge.

Tuesday 17th January 2012, Vinter loses his appeal to the European Court. His case, together with two other life prisoners was that, being sentenced to a whole life tariff was 'inhuman and degrading treatment'.
November 2014, Vinter attacked fellow prisoner, 52-year-old lee Newell. Vinter punched Newell to the ground then kicked him in the head.
In court a Ministry of Justice barrister stated that Vinter had threatened to hurt another prisoner if he was not moved to another jail.
Vinter was given a further life term, this places him on the Home office list of prisoners on a 'Whole Life Tarrrif', see list here >>