Wayne Couzens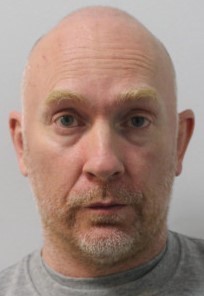 | | |
| --- | --- |
| AKA | |
| DOB | 1973 |
| Occupation | Police Constasble |
| Kill Total | 1 |
| Kill Place | London / Kent |
| Kill Date | March 2021 |
| M.O. | Strangulation |
| Victim | Sarah Everard - 33 |
Court
The Old Bailey
Judge
Lord Justice Fulford
Prosceution
Tom Little QC

Carolyn Oakley (CPS)

Defence
Jim Sturman QC
Case No:
Wayne Couzens, born in 1973, the eldest of two boys, he was a mechanic at a Dover garage which was run by his family for decades until it closed down in 2015.

2002, Couzens was a member of the Army Reserves, serving in the 3rd battalion, the Princess of Wales's Royal Regiment, he left in 2004.
2006, Couzens moved to the seaside town of Deal in Kent. where he lived with his new wife Ukraine-born wife Elena, a 38-year-old laboratory manager, they went on to have two children. At this time he was volunteering as a Special Police Constable.
2008, Couzens joined Kent Police as a Traffic Officer.
2015, Couzens accused of indecent exposure, no investigation was carried out.
September 2018, He transferred to the Metropolitan Police force, and was initially based in the Bromley area of South West London.
February 2020, he moved to the Parliamentary and Diplomatic Protection Command where his primary role was uniformed patrols, mainly at a range of embassies in the capital, he became a licensed firearms officer.
Sunday 28th February 2021, Couzens again accused of indecent exposure, no investigation was undertaken. He allegedly exposed himself to a female staff member at a local McDonalds, the whole incident was caught on CCTV.
That same day, Couzens booked a hire car to collect on the afternoon of 3rd March, using his own bank card, he also bought a roll of self-adhesive film.
Wednesday 3rd March 2021, Couzens finished a 12-hour shift as a police constable, then went to pick up the hire car, a white Vauxhall Astra.
That evening, CCTV caught him cruising the streets in South London. 33-year-old marketing executive Sarah Everard was walking home from a friends house in Clapham, South London, towards her home in Brixton when PC Couzens, using the hire car abducted her, and drove 75-miles to Kent, it was confirmed during the investigation that they did not know each other before this fateful night.
Couzens was seen on CCTV showing his police warrant card to Sarah, who presumably had no reason to then doubt the intentions of a police officer.
During the following investigation, police looked at CCTV in the area. Sarah Everard was caught alone on CCTV at 9:15pm, seen again on camera at 9.28pm, and later caught on the camera of a marked police car at 9.32pm.
At around 9.35pm, a bus camera captured two figures on Poynders Road and a white Vauxhall Astra with its hazard lights flashing.
The registration of the vehicle – later confirmed to be a car hired in Dover – is captured and tracked by police as it leaves London towards Kent.
4th March 2021, Josh Lowth, Sarah's boyfriend, reported her missing, police launched an urgent inquiry.
5th March 2021, Couzens calls into work saying he needs time off due to stress.
5th march 2021, Couzens, a trained firearms officer, emails his supervisor to say he does not want to carry a firearm anymore.
9th March 2021, at his home in Deal, Kent, PC. Couzens wiped his phone clean, just moments before police arrived to question him.
He was taken into custody. During the following questioning he was twice rushed to hospital after suffering head injuries in his cell cell at Wandsworth police station.
There was no suggestion anyone else was involved.
He was originally just charged with kidnapping.
10th March 2021, Ms Everard's body was found in a woodland stream in Ashford, Kent, just metres from land owned by PC. Couzens and his wife, that they had purchased in 2019. Ms Everard's body was found inside a large builder's bag and identified using dental records.
12th March 2021, PC Wayne Cozens is charge with the abduction, rape and murder of Sarah Everard on 3rd March 2021.
Saturday 13th March 2021, Couzens appears at Westminster Magistrates court to face charges. He appeared in court before Chief Magistrate Paul Goldspring, who remanded him in custody to appear again at the Old Bailey in London.
Later a post-mortem was inconclusive, no cause of death was established.
March 2021, Sarah's family attended the inquest into her death at the County Hall in Maidstone, Kent. However, proceedings were adjourned, pending the outcome of the criminal investigation into Ms Everard's death. The coroner reported that the first post-motrem was inconclusive and a second would be conducted.
At Wiliam Harvey Hospital in Ashford, a second post-mortem, found that Sarah had died as a result of compression to the neck, (strangulation).
8th June 2021, at a court hearing Cozens pleads guilty to the abduction and rape of Sarah Everard. He accepted responsibility for her death, but did not enter a plea in relation to the murder.
Thursday 8th July 2021, at the Old Bailey, in London, in front of the judge, Lord Justice Fulford, PC Wayne Couzens pleads guilty to the abduction and rape of Sarah Everard in March 2021. He appeared by video link from Belmarsh high security jail. He gave no reason for the incident.
Friday 9th July 2021, again appearing by video link from HMP Belmarsh, Couzens pleads guilty, this time to murder. The judge ordered sentencing to be delayed to allow for reports.
During the trial, it was revealed that PC Wayne Couzens initially denied the murder of Sarah Everard. when he was first interviewed by police, Couzens claimed he had kidnapped Ms Everard for an eastern European gang outside of London after they had threatened to harm his family. Couzens claimed he was unable to pay for a sex worker so he was ordered to find "another girl" otherwise his family would be harmed, he later retracted this story.
29th September 2021, sentencing Couzens to a whole life tariff, the judge, Lord Justice Fulford, told 48-year-old Wayne Couzens: "Notwithstanding your guilty pleas, therefore, I have seen no evidence of genuine contrition on your part, as opposed to evident self-pity and attempts by you to avoid or minimise the proper consequences of what you have done."

The judge added, "The misuse of a police officer's role such as occurred in this case in order to kidnap, rape and murder a lone victim is of equal seriousness as a murder for the purpose of advancing a political, religious or ideological cause".
This puts Couzens on the list of those who will die in prison, serving a whole life term,
Read the Judge's full sentencing remarks
here >>
The Independent Office for Police Conduct (IOPC) continues an investigation into 12 officers who have been served gross misconduct or misconduct notices in matters relating to this case.
Friday 29th July 2022, Couzens loses an appeal against his 'Whole life' tariff, the Lord Chief Justice, Lord Burnett, said the crime was so exceptional the sentence should stand.