Victor Castigador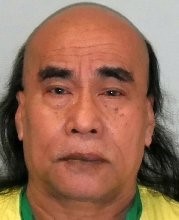 AKA
DOB
1954
Occupation
Kill Total
3
Kill Place
Soho & Prison
Kill Date
1989 & 2016
M.O.
Arson & beating
Victim

Ambikaipahan Apapayan 21

Kandiahkanapathy Vinayagamoorthy 28

Sidonio Teixeira 59
Victor Castigador was born in the Philippines in 1954, he cam to the UK in 1985 as an illegal immigrant.
2nd August 1989
, Having had a row with his boss at the amusement arcade where he worked, in London's Soho area, he decided to rob the arcade.
With 4 young accomplices that he recruited, they broke into the arcade just after closing time. The manager, cashier and two security guards were still there courting the money.
They were forced to open the safe at gunpoint. three of the young helpers ran off at this stage but a young man called Paul Clinton, aged-17, stayed to help Victor.
They tied up the four hostages and locked them in the vault security cage.
They then threw in white spirit and finally a lit match before leaving.
The robbery hauled just £9,000.
The manager and cashier suffered bad burns but did survived, the two security guards, Ambikaipahan Apapayan aged-21 and Kandiahkanapathy Vinayagamoorthy aged- 28 both from Sri Lanka both died of burns and asphyxiation.
When staff arrived the following morning to find the horrifying scene the police were called and Victor was quickly picked up and charged with double murder.
February 1990,
Both 17-year-old Clinton and Victor Castigador went on trial for double murder, two attempted murders and one charge of robbery.
Castigador was given a minimum recommendation of 25 years by the judge, which was later amended by the Home Secretary, who informed him that he would not be released alive under the terms of a whole life tariff. See list
here >>
Paul Clinton, whose young age was taken into account by the judge, was given a 20 year prison sentence.
The other three other men were also jailed.
Clinton appealed against the length of his sentence in 2003 but this was rejected.
Monday 20th June 2016
, At Worcester Crown Court, Victor Castigador, now aged 61, was charged with murder after killing a fellow inmate.
Sidonio Teixeira, aged 59, who was jailed for life in 2008 for the murder of his three-year-old daughter, was attacked with a stone inside a sock, at Long Lartin prison in Worcestershire by Castigador.
Castigador is alleged to have said "
I'm never being release so what have i got to loose
"