Tracie Andrews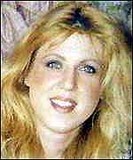 AKA
Tia Carter -

Jenna Stephens


DOB
9 April 1969
Occupation
Model / Barmaid
Kill Total
1
Kill Place
Birmingham
Kill Date
December 1996
M.O.
Stabbing
Victim
Lee Harvey
| | |
| --- | --- |
| Court | Birmingham Crown Court |
| Judge | Mr Justice Buckley |
| Prosceution | David Crigman QC |
| Defence | |
| Case No: | |
Tracie Andrews was the middle child of three siblings and had several half-siblings.
Her parents had a volatile relationship, and they separated when she was 6-years-old, she frequently witnessed violent behaviour from her parents. The separation had a lasting effect on Andrews and she was psychologically scarred by the breakup. Andrew's mother later re-married.

Andrews had a baby daughter at age-21, but her relationship with her then partner lasted only a year before they separated.
Andrews was notably possessive with her partners, not liking them having a life without her or being able to go out without her. Most who knew her also said she had a vicious temper, and that she was prone to aggressive and explosive displays of anger.
Andrews wanted to be a model, but began working as a barmaid.
She began a relationship with local man Lee Harvey in 1994 and the relationship moved quite quickly, the pair moving in together only three months after they met. The relationship was marked by volatility, with both being possessive and jealous of each other's relations with other men and women. The couple were often violent towards each other, and Lee Harvey had confided in his mother that Andrews had a violent temper.
1st December 1996, after a drinking session in a local pub, the couple again argued in the car on the way home. Andrews attacked Lee Harvey in the car after they had stopped following to continue the argument, Andrews stabbed Harvey in and around the neck over 40 times, with an imitation Swiss Army knife.

3rd December 1996 Andrews appeared at a Press conference saying Harvey had been the victim of a road rage attack from a man with "staring eyes". She then took a drug overdose the following day but survived.

A West Midlands Police inquiry failed to find witnesses to the incident, and Andrews was arrested on the morning of Saturday 7th December, in Hospital.
She was released on bail after being charged. She continued to maintain her road-rage defence.

29th July 1997 Andrews was found guilty by a jury at Birmingham Crown Court, for the murder of Lee Harvey.
She was sentenced to life imprisonment, a 14 year minimum term was recommended, by the judge.

October 1998, .An appeal lodged by Andrews, alleging that she was the victim of a miscarriage of justice because of damaging publicity surrounding her case, was thrown out at a court hearing.

April 1999 Andrews admitted that she had carried out the crime.

2006 it was reported in the national press that Andrews was hoping to be released from jail within months and planned to marry, but Home Office sources denied that she was due to be released imminently.
She was moved from Foston Hall jail in Derbyshire to Send prison near Woking, Surrey.

November 2009, Andrews had surgery while in prison to correct a jaw problem. This was discussed in the media, disgust was shown that a prisoner was getting NHS treatment.

July 2011, Andrews released on licence, she is not allowed to go within 25 miles of Harvey's family. On release she has allegedly changed her name to Tia Carter.

August 2017, Andrews, now aged-48, and now using the name Jenna Stephens married Phil Goldsworthy, she met in the pub where they both worked in Cornwall.
See video below for more details.