Tony Bushby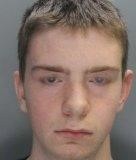 | | |
| --- | --- |
| AKA | Babysitter Killer |
| DOB | 1993 |
| Occupation | Karate Instructor |
| Kill Total | 1 |
| Kill Place | Borehamwood |
| Kill Date | December 2011 |
| M.O. | Stabbing |
| Victim | Katie Wynter - 18 |
| | |
| --- | --- |
| Court | St Albans Crown Court |
| Judge | Andrew Bright QC |
| Prosceution | Michael Speak |
| Defence | Lee Karu QC |
| Case No: | T20127001 |
Tony Bushby met fellow 19- year-old Katie Wynter on Facebook. They had a secretive relationship, and unknown to Katie, Bushby had created several fake identities on Facebook, there "fake" people would say good things about Bushby, all in attempt to gain Katie's trust.
26th December 2011,
Katie Wynter was babysitting her sisters 2 young children, in Beech Drive, Borehamwood. Her 'secret boyfriend' came to visit while she was at her sisters, the night ended in tragedy.
27th December 2011
, Katie's mother found her daughters body slumped against the fridge in the kitchen, in a pool of blood. When she arrrived at the house the children, aged three and four, ran down the stairs and told her: "
Grandma, Grandma, Katy's dead
".
She had 23 separate wounds to her neck and body, including 13 serious stab injuries as well as cuts on her hands, where she had tried to defend herself from the attack.
After the attack in Beech Drive, Bushby went to his home in nearby Digswell Close, with blood on his clothes and hands, leaving Katie's blood on his own front door.
After his arrest he at first denied even knowing Katie, then changed the story to one of his made up characters told him to do it. When confronted with the blood on his front door he told police that 'Dan Tees' had gloves given to him by Katie, "it must have come from him". Police were able to check with Bushby's ISP and confirmed all the Facebook accounts had been set up from the same IP address, including the alleged Dan Tees.
After Katie was killed Bushby made online searches and inquiries to Facebook about removing an account. It was also alleged that he deliberately damaged his phone.

Tuesday 24th July 2012, Bushby is found guilty of murder at St Albans Crown Court.

Wednesday 25th July 2012, at St Albans Crown Court, judge Andrew Bright sentenced Bushby to life, with a minimum term of 26 years.
He then told Bushby: "I am currently of the view that you pose a very real danger to women."