Steven Jones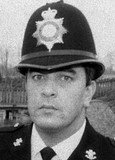 | | |
| --- | --- |
| AKA | |
| DOB | 1971 |
| Occupation | Police Officer |
| Kill Total | 1 |
| Kill Place | Clwyd |
| Kill Date | Jan 1993 |
| M.O. | Beating |
| Victim | Madallin Jones-37 |
| | |
| --- | --- |
| Court | Caernarvon Crown Court |
| Judge | Mr Justice Kennedy |
| Prosecution | Anthony Gee QC |
| Defence | |
| Case No: | T2022 |
Police sergeant Steven Jones was looking for promotion, and had recently started an intense relationship with a teenage barmaid. he needed rid of his wife, he feared the financial cost of a divorce and the potential harm to his promotion prospects. He had recently taken out a £60,000 life insurance policy on his wife.
3rd January 1993, Steven Jones lured wife Madallin, out of their house, that they shared with two sons, and into the garage, pretending her brother had suffered a heart attack. After killing her with a single blow from his police truncheon, Jones - 6ft 1in tall and 19 stone - put a bin-liner over her head to stop any blood getting on his clothes or the floor.
Now wearing his police riot helmet to protect himself from injury in the staged crash, Jones drove his wife's body in her red Metro car to Tinkers Dale Wood, a lonely stretch of the A550, a mile-and-a-half from the family home.
After driving down an embankment and into a tree, Jones walked to his Rover, which he had earlier parked near by while on duty.
But he made one very serious mistake - colleagues who found Mrs Jones's body became suspicious because the driver's seat was set too far back for her to have been at the wheel. She was 4ft 11in tall. Although the windscreen was broken, forensic tests at the scene also revealed that her head injuries were inconsistent with a road accident, and detected no windscreen impact.
Jones had not counted on the support from other police officers. Once the car was identified, colleagues went round to comfort him, but he had not had time to clean up. His wifes blood was found on his riot helmet, and the truncheon in his boot also had her fresh blood on it.
Friday 26th November 1993, A jury at Caernarvon Crown Court took three hours and 35 minutes to convict 34-year-old Steven Jones. He had claimed that the death of his wife, Madallin, aged-37, the mother of his two sons, was 'a tragic accident'.
Jones was sentenced to life imprisonment.