Stanley Hobday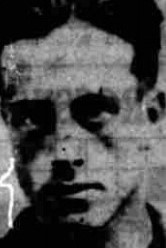 | | |
| --- | --- |
| AKA | |
| DOB | 1909 |
| Occupation | |
| Kill Total | 1 |
| Kill Place | West Bromwich |
| Kill Date | 27 Aug 1933 |
| M.O. | Stabbing |
| Victim | Charles Fox-24 |
| | |
| --- | --- |
| Court | Stafford Assizes |
| Judge | Mr. Justice Talbot |
| Prosceution | |
| Defence | Sir Reginald Coventry |
Stanley Hobday would be described as 'vertically challenged' these days; in 1933, he was described by one witness as "an overgrown dwarf." Various stories talk about his height, one states he was about 4 foot 2 inches, another says he was 5 feet 3 inches. Stanley as know to police as a petty thief.
Sunday the 27th of August 1933,
Mrs Gladys Fox was awoken by the sound of breaking glass. She nudged her husband, 24-year-old Charles Fox, and whispered to him what she had heard. He went downstairs to investigate., with his wife hiding behind him.
He went into the sitting room and came out moments later with a knife stuck in his back, he had been stabbed seven times, e died in his wife's arms moments later.
Police investigating the killing in Moor Street, West Bromwich, soon found out that there had been another break-in that same night. This had happened at a butcher's shop, owned by a man named Newton, in nearby Bromford Lane. A few pounds had been stolen but the burglar had left behind a few things. Firstly there was a bowl of soapy water and Newton's razor. The burglar must have shaved himself. Secondly, he had left out a sewing basket where he had used a needle and thread. Thirdly, he had left his fingerprints. There was also an empty bottle of milk that he had helped himself to.
One of the greatest experts in the field of fingerprinting was Chief Inspector Fred Cherrill of Scotland Yard. It took him only minutes to identify the culprit responsible for the break-in at the butcher's and, probably, the murder. It was the first time that the BBC used its network to broadcast the description of a man who police wanted 'to help them with their inquiries.'
By this time Hobday was on his way north from Birmingham after stealing a car from close to the scene of the Bromford Lane burglary. An Irish labourer was working in a field near High Leigh, in Cheshire, when he was astonished to see a maroon car come hurtling through the air, turn a full somersault and land back on its wheels. The driver got out and walked away. This was Hobday. Always leaving something behind, this time it was his suitcase, as well as his fingerprints on the starting handle.
Hobday started to walk. He got nearly as far as Carlisle on foot. Then he got mixed up with a herd of cows being taken along the road for milking. 'Watty' Bowman, the cowman, was sure that he knew the man stuck in the middle of his herd, but could not think where from. 'Watty' owned a radio set and it later dawned on him that he recognised him from the description that had been broadcast.
A couple of hours later PC Elder, of the Cumberland Constabulary, faced Stanley Hobday, who, 'went quietly'.
November 1933
, the trial took place at Stafford Assizes. The evidence was conclusive and the jury took only forty-five minutes to find him guilty.
29th December 1933
, The entry in Executioner
Thomas Pierrepoint'
s
diary read "Hobday. 8am, Winson Green Prison, Birmingham."