Shaye Groves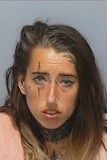 | | |
| --- | --- |
| AKA | |
| DOB | 1996 |
| Occupation | |
| Kill Total | 1 |
| Kill Place | Havant |
| Kill Date | July 2022 |
| M.O. | Stabbing |
| Victim | Frankie Fitzgerald-25 |
| | |
| --- | --- |
| Court | Winchester Crown Court |
| Judge | The Hon Mr Justice Kerr |
| Prosecution | Steven Perian KC |
| Defence | Michael Goodwin KC |
| Case No: | U20220444 |
February 2022, Shaye Groves and boyfriend Frankie Fitzgerald, had been in an on-off relationship, they would often film bondage sessions on a camera that was set up in the Groves home.
Groves home was full of Serial killer memorabilia, including framed photos of serial killers.
17th July 2022, In a fit of rage Shaye Groves acted out of jealousy, when she discovered boyfriend, 25-year-old Frankie Fitzgerald, had been messaging a 13-year-old girl on Facebook. She slit his throat, while he was sleeping, and then stabbed him a further 17-times in the chest and abdomen. It later turned out the girl was in fact 17-years-old, and Frankie had already blocked her on Facebook.
by reading about and watching many murder documentaries Groves was familiar with crime scenes, how to make a false narrative and how to set up a fake alibi.
Groves made a video and sent it to a friend, the videos showed Groves and boyfriend Frankie having sex, but Groves edited the video to appear as rape. Police would later find the original footage, which showed it was actually all consensual.
When police arrived, body-worn cameras showed Ms Groves telling officers Mr Fitzgerald had tried to attack her.
Police discovered Groves had knives, Viking axes and portraits of serial killers on her bedroom wall, is this relevant?
January 2023, At Winchester crown court, Shaye Groves denied murder, but pleaded self-defense, claiming Fitzgerald tried to rape her.
Friday 17th February 2023, Groves is found guilty of murder
Wednesday 22nd February 2023, Sentencing at Winchester Crown court, Groves was given a life sentence with a minimum term of 23-years behind bars.
judge The Hon Mr Justice Kerr, said Groves was a "manipulative, possessive and jealous woman".
Groves will be eligible to apply for parole in January 2045.