Sabrina Kouider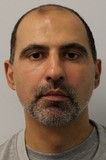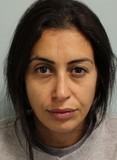 AKA
Au Pair Death
DOB
Sabrina-1983

Sam-1978

Occupation
Kill Total
1
Kill Place
London
Kill Date
Sept 2017
M.O.
Strangulation
Victim
Sophie Lionnet-21
| | |
| --- | --- |
| Court | The Old Bailey |
| Judge | Nicholas Hilliard QC |
| Prosecution | Richard Honwell QC |
| Defence | Icah Pearl QC |
| Case No: | T20177351 |
2011, Sabrina Kouider met and began a romantic relationship with Mark Walton, a founding member of the popular Irish boy band Boyzone. Mark introduced Sabrina to the glitz and glamour of life in the fast lane.
However, Mark couldn't deal with Sabrina's extreme jealousy. She constantly accused him of sleeping with male prostitutes and even hid cameras in his house so she could spy on him. Mark finally had enough, and ended their relationship. Sabrina fled back to the arms of Ouisseem "Sam" Medouni, her longtime stand-by boyfriend who had always been there to comfort Sabrina when one of her relationships ended.
2016, Sabrina and Sam Medouni were living together as a couple and raising Sabrina's two children from a previous relationship. The pair hired French national Sophie Lionnet, a 20-year-old, who was eager to make it on her own and improve her English, as an au pair, for the children.
While au pair Sophie looked after the kids, Sabrina continued to stalk and harass Mark Walton, accusing him of various outlandish transgressions, including sexually abusing her cat. Eventually, Sabrina came to believe that Sophie was a spy sent by Mark Wilton to destroy her and her family. This belief had no basis in reality, but Sabrina managed to convince Sam that it was indeed true.
Sabrina and Sam's started to abuse Sophie, firstly by denying her food and treating her like a slave, this then escalated to physical and psychological abuse, slaps and beatings with electrical cords and other instruments became the norm. Sabrina told Sophie she could only leave if she confessed that she was working for Mark Walton and drugging Sam. Sophie's denials resulted in hours of interrogation and torture, all captured by Sabrina and Sam on their smartphones.
Sophie offered a false confession, in the hope that Sabrina would make good on her promise and release her. Instead of letting Sophie leave, Sabrina and Sam escalated the torture by trying to drown her in the bathtub in between beatings.

19th September 2017, Sophie Lionnet died.
20th September 2017, Sam burned Sophie's body in the garden, he tried to hide the smell of burning flesh by barbecuing some chicken. When fire brigade responded to calls from neighbors about an out of control fire, Sam told them Sophie's remains were those of a sheep; they were not fooled.
After their arrest Sabrina and Sam tried to blame each other and insisted that Sophie's death was manslaughter, not murder, but the recordings they made of their torture sessions contradicted their stories.
26th June 2018, both were sentenced at the old bailey in London, to serve a life sentence, with a minimum term of 30-years.