Ronald Castree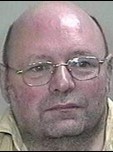 | | |
| --- | --- |
| AKA | |
| DOB | 18 Oct 1953 |
| Occupation | Market Trader |
| Kill Total | 1 |
| Kill Place | Rochdale |
| Kill Date | Oct 1975 |
| M.O. | Stabbing. |
| Victim | Leslewy Molseed -11 |
| | |
| --- | --- |
| Court | Bradford Crown Court |
| Judge | Mr Justice Openshaw |
| Prosceution | |
| Defence | |
| Case No: | T20067405 |
Lesley Susan Molseed lived in Rochdale, Greater Manchester, with her mother April, step-father Danny, brother, and two sisters,
she had been born with a heart condition, she had open-heart surgery to rectify, but the procedure affected her health and mental development, she remained weak, with a reduced mental age.

5th October 1975, just before lunchtime 11-year-old Lesley was asked by her mother to go to the local shop to buy bread. The children had a rota for chores, for Lesley, this type of errand would have been quite normal in the 1970's. Walking alone in a blue raincoat, and with £1 in cash, she was last seen by witnesses in a secluded Lane.
When Lesley didn't come home, her mother sent her siblings out to look for her, and her. At 3:00pm., with no sign of her, the Rochdale Police were called. A search around the town are begun.
Lesley's body was found three days later, in a remote roadside layby on the trans-Pennine Way near Rishworth Moor in West Yorkshire.
She was discovered lying face down in some tall grass, she had been stabbed 12 times in the upper shoulder and back. Some of the wounds were quite deep, one penetrated her heart. Her clothing was not disturbed, but the money was missing and someone had ejaculated on her clothing and underwear.
Evidence was collected by forensics including unknown fibres, traces of dry wallpaper paste, and several other objects, were all taken away.
At the time of the manhunt, four different girls  independently claimed to police that local man Stefan Kisko, a civil Servant from Rochdale, had indecently exposed himself to them.
One of them also said he had exposed himself to her a month after the murder.
Kiszko was a 23-year-old local tax clerk, West Yorkshire Police quickly formed the view that Kiszko fitted their profile of the sort of person likely to have killed Lesley Molseed.
Psychological evaluation showed that Stefan Kiszko had a mental age of just 12.
Kiszko also had an unusual hobby of writing down registration numbers of cars that annoyed him, which further supported police suspicions about him.
The police now pursued evidence which might incriminate him, and ignored other leads that might have taken them in other directions.

21st December 1975, acting upon the teenage girls' information and their suspicions of Kiszko's lifestyle – and having allegedly found pornographic magazines and a bag of sweets in his car – the police arrested him.
During questioning, the interviewing detectives seized upon every apparent inconsistency between his varying accounts of the relevant days, as further demonstration of his likely guilt.
Kiszko confessed to the crime after three days of intensive questioning.
He was led to believe that by doing so, he would be allowed to go home and that the ensuing investigations would prove him innocent and his confession false.
Prior to the Police and Criminal Evidence Act of 1984, (PACE), suspects did not have the right to have a solicitor present during interviews.
His request to have his mother present while he was being questioned was refused and the police did not caution him until after they had decided he was the prime suspect – indeed, the only suspect. in the presence of a solicitor, Kiszko retracted his confession.
7th July 1976, Kiszko went on trial for murder under Sir Hugh Park at Leeds Crown Court.
Kiszko's defence team made several critical mistakes.
Firstly, they never asked for an adjournment after the prosecution delivered thousands of extra pages of additional unused material on the first morning of the trial, that the defense team had never seen.
Secondly, was the inconsistent defence of diminished responsibility which Kiszko never agreed to, on the grounds that the testosterone he was receiving for his hypogonadism might have made him behave unusually. hypogonadism meant he could not produce semen.
Kiszko's endocrinologist strongly disagreed with this theory, and if called to testify, would have said that his treatment could not have caused him to act in such a way that would make him carry out a murder. He was never called to appear.
21st July 1976, Kiszko's conviction was secured by a 10–2 majority verdict on at Leeds Crown Court after five hours and 35 minutes of deliberation. He was given a life sentence for committing Molseed's murder. Stefan was frequently besten in prison, both his physical and mental health were in a bad way.
His mother continued to believe in him, and wrote letters to Prime Ministers, home Secretaries and anyone who would listen. She got support from the UK based human rights organisation JUSTICE, they helped draft a petition to ask for the case to re-investigated.
February 1991, with the help of a private detective, and input from JUSTICE, they finally persuaded the Home Office to reopen the case, which was then referred back to West Yorkshire Police. At the same time the four teenage girls that had helped convict Stefan came forward to say that they had lied.
August 1991, the new findings in Kiszko's case were referred to Home secretary Kenneth Baker, who immediately passed them on to the Court of Appeal.
19th December 1991, Kiszko was moved from Ashworth secure Hospital to Prestwich Hospital.
After hearing the new evidence, The Lord Chief Justice sitting at the Court of appeal, said: 'It has been shown that this man cannot produce sperm. This man cannot have been the person responsible for ejaculating over the girl's knickers and skirt, and consequently cannot have been the murderer.' Kiszko was cleared, and Lord Lane ordered his immediate release from custody.
Fromn those involved in the original investigation there were apologies, and a couple of people, most notably a forensic scientist were sacked.
Stefan Kisko, spent seventeen years in prison for the murder of Lesley Molseed until advances in forensic & scientific evidence showed he could not have committed the crime.
evidence that was known to the police at the time but was suppressed and not disclosed to the defence. His conviction was overturned in 1992: He sadly died a year later.


5th November 2006, Police announced that a 53-year-old man had been arrested in connection with the murder of Lesley Molseed that had taken place in 1975.
DNA evidence was alleged to have shown a "direct hit" with a semen sample found at the scene of the murder.
Castree had lived in nearby Shaw and Crompton and was a taxi driver.
He was unpopular with his neighbours, who said he had a very nasty temper.
His former wife said 'he was foul with his mouth, and foul with his fists.
Two weeks before Castree killed Lesley Molseed, his wife had given birth to a son.
Castree was not the baby's biological father; his wife had had an affair. This left Castree home alone on the day of the murder.
The birth of the illegitimate child may have been a trigger for Castree's murder of Lesley. Castree and his wife had two more children together, but they split in 1996 and divorced a year later.
3rd July 1976, Castree abducted and sexually assaulted a nine-year-old girl, on 12th July, he pleaded guilty and was fined £25 on both counts against him, which were indecent assault and incitement to commit an act of gross indecency.
17th July 1978, Castree was fined £50 after indecently assaulting a seven-year-old boy.

7th November 2006 Ronald Castree from Greater Manchester, was charged with the murder of Lesley Molseed and made his first court appearance where he was remanded in custody.

19th April 2007 At an initial court hearing, Castree pleaded not guilty to a charge of murder.

22nd October 2007 Castree's trial began at Bradford Crown Court.

12th November 2007 Castree was convicted for the murder of Lesley Molseed, with a recommendation to serve a minimum of 30 years, this will keep him in prison until the age of 84.
During the trial a scientist told a jury how DNA taken from the underwear of murdered schoolgirl Lesley Molseed were linked to the man accused of her murder.
The DNA sample had been taken in October 2005 when he was arrested but not charged in connection with another sex attack.