Raymond Baxter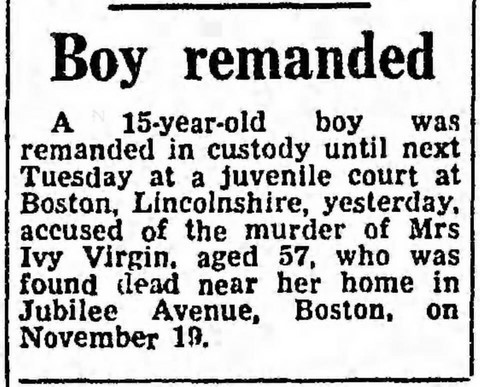 | | |
| --- | --- |
| AKA | |
| DOB | 1955 |
| Occupation | |
| Kill Total | 1 |
| Kill Place | Boston |
| Kill Date | Nov 1970 |
| M.O. | Stabbing |
| Victim | Ivy Virgin-57 |
19th November 1970, Baxter was a known voyeur, on this particular night he was in the garden of the house of Mr & Mrs virgin, when she came home and caught him, he attacked her.
Ivy Virgin aged-57 from Boston in Lincolnshire, died of multiple stab wounds, one in her neck; one in her left breast, one in her left shoulder, and another wound in her upper left arm. She also had slash marks on her wrists - consistent with defence wounds.
Ivy managed to get to her front door, her husband heard scratching at his front door. He opened the door to find Ivy bleeding profusely on the front steps. Mr. Virgin attempted to staunch the flow of blood while his son ran to a telephone box to call an ambulance. Despite efforts to save her life, Virgin was pronounced dead at 1 a.m.


The coroner found Virgin had been stabbed multiple times to her neck, chest, shoulder, and arm. An x-ray found the knife used to kill her had become embedded in her shoulder, and the tip had broken off in the bone.

15-year-old Raymond Baxter was caught 8 months after Virgin's death while he was shoplifting. He had a knife with a broken tip. This knife was shown to be the knife that killed Ivy Virgin, as its tip had been left in her body.
1980, Baxter was released though he was arrested again in 1985 for rape and was sentenced to 10-years imprisonment.
It is not known what became of Raymond Baxter.