Raoul Moat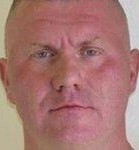 | | |
| --- | --- |
| AKA | |
| DOB | 17 June 1973 |
| Occupation | |
| Kill Total | 1 |
| Kill Place | Gateshead |
| Kill Date | July 2010 |
| M.O. | Shooting |
| Victim | Chris Brown |
It is alleged that police received a letter from the Prison Service just before Raoul Moat's release warning them of Moat's intentions. The letter was quite specific, actually naming Moat's targets.
Thursday 1st July 2010
, Raoul Moat is released from Durham prison after serving an 18 week sentence for assault.
Saturday 3rd July 2010
, At just after 2am Chris Brown was leaving the home of Samantha Stobbart, Moat shot him, Moat then fired at Ms. Stobbart through a window of the house, she was treated in hospital.
Sunday 4th July 2010,
Pc David Rathband aged 42, was shot twice in the face while in his patrol car in the Denton Burn area of Newcastle, he survived but was blinded.
Wednesday 7th July 2010
, Police discover a tent in Rothbury, that was used by Moat, they also found a hand written letter to his ex-girlfriend Samantha.
Police offered a £10,000 reward for information that lead to his capture.
Northern Ireland police sent over several armoured police vehicles for officers to use in the hunt for Moat.
Saturday 10th July 2010
, After being cornered by police, and then after a 5 hour stand off Moat turned a gun on himself, ending one of the biggest manhunts the UK has ever seen.
Tuesday 15th March 2011
, At Newcastle Crown Court.2 men were tried and convicted of murder, they assisted Moat in his deadly campaign.
Karl Ness aged 26, was sentenced to life, with a recommendation he serve a minimum 40 years.
Ness was with Moat the night he shot Mr Brown.
Qhuram Awan, aged 23, was given a life with a recommended 20 year tariff for conspiracy to murder, attempted murder, and robbery of a chip shop.
Wednesday 29th February 2012
, The Police office shot by Moat as he sat in his patrol car, Pc David Rathband, was found dead at his home, he had taken his own life. Police said they are not looking for anyone else in connection with the death.
He had been blinded after the attack by Moat.
See video below for more ...