Rahan Arshad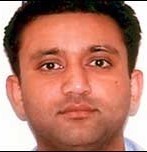 AKA
DOB
1970
Occupation
Taxi Driver
Kill Total
4
Kill Place
Manchester
Kill Date
July 1909
M.O.
beating
Victim
Uzzma, 32
Adam, 11
Abbas, 8

Henna, 6

| | |
| --- | --- |
| Court | Manchester Crown Court |
| Judge | Mr Justice Clarke |
| Prosceution | |
| Defence | |
| Case No: | |
Rahan Arshad and wife Uzzma, had been having marriage difficultties, and she had been having an affair, which he found out about.
28th July 2006, Arshad attacked his wife in a bedroom and covered her body with a towel. He then carried each of his sleeping children downstairs, battering first Abbas, eight, then Henna, six, and finally Adam, 11. He covered their bodies after each attack.
Wife Uzzma suffered 23-blows to her head and body from the bat he had bought the previous day and later hid in his garden shed.
He then drove to Heathrow in his brand new £20,000 BMW, and got on a plane to Bangkok and travelled on to Phuket, Southern Thailand.


Sunday 20th August 2006, The decomposing bodies were found more than three weeks later after a neighbour smelled rotting flesh and called plice.
Sunday 1st Sptember 2006, Arshad returned voluntarily from Thailand, and was arrested at Heathrow airport, and driven to Manchester for questioning, he reportedly said "I confess to the murder. My beautiful kids, I don't regret killing that bitch, but my kids, killing my kids..."
Once in custody, he refused to answer police questions, claiming his wife had beaten the children to death and he had killed her in return.

Tuesday 13th March 2007, Rahan Arshad, told Manchester Crown Court he could not remember bludgeoning his wife Uzma, 32, with a baseball bat and denied killing his children.
The court was told Arshad may have been motivated by jealousy after discovering his wife was having an affair. Arshad, of Turves Road, Stockport, Greater Manchester, denied four counts of murder but was convicted by a jury at Manchester Crown Court, the jury reaching the verdict after just four hours.
The trial judge recommended that life should mean life, adding:-
"
The jury have convicted you on overwhelming evidence ... You killed your entire family in circumstances of great brutality. You beat your wife to death in her bedroom and then coldly and deliberately you brought your sleepy children downstairs to meet their deaths. You left the scene and fled the country. It was over three weeks before the bodies were discovered. There is no suggestion of mental illness on your part.
"
Arshad is on the Home Office list of prisoners who will never b released, serving a 'Whole life Tariff', see list
here >>