Peter Tobin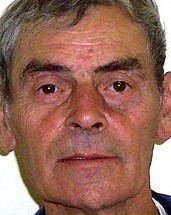 AKA
DOB
27 Aug 1946

(Virgo)

Occupation
Kill Total
3 + ?
Kill Place
Essex & Scotland
Kill Date
1991 - 2006
M.O.
Strangulation
Victim
Angelika Kluk-23
Vicky Hamilton-15
Dinah McNicol-18
Tobin was one of eight children, and was a 'difficult' child. At aged-7, in 1953 he was sent to an approved school.
In his teenage years Tobin served several terms in borstal. for robbery and forgery, he was sent to borstal.
August 1969, after time allegedly in the French foreign legion, he deserted, and moved to Brighton, where he married 17-year-old Margaret Mountney. They separated after a year, Tobin went on to have three wives, all short lived relationships.
1970, Tobin was convicted for robbery and forgery, he was sent to prison.
After release he moved to Margate in Kent, and then Havant in Hampshire.
August 1991
, 18-year-old Dinah McNicol disappeared while hitch-hiking in Essex.
Also in 1991 15-year-old Vikki Hamilton went missing from a bus stop in Bathgate near Edinburgh where Tobin was living at the time.
1993,
Tobin attacked two 14-year-old girls who were babysitting his son at his home in Havant, Hampshire. After holding them at knifepoint, he sexually assaulted and raped them. To avoid arrest, Tobin went on the run and hid in a church retreat in Warwickshire under a false name, but he was recognised and arrested after appearing on the BBC Crimewatch programme.
18th May 1994,
at Winchester Crown Court, Tobin pleaded guilty, and received a 14-year prison sentence for the rape of the two young girls. He was released in 2004, and moved to Paisley, Scotland.
May 2007
Tobin received a further 30-month sentence for breaching the terms of the Violent and Sex Offender Register.
September 2006
, Tobin was working as a church handyman at St. Patrick's Roman Catholic Church, Glasgow. He was using a false name, "Pat McLaughlin" to avoid detection, as he was still on the Violent and Sex Offender Register, but not compliant with it, following the 1994 convictions for rape and assault.
24th September 2006
, Angelika Kluk was a 23-year-old student from Skoczow, near Krakow in Poland. She was staying at the chapel house of St Patrick's Church, where she worked as a cleaner to help finance her studies at Gdańsk University. She was last seen alive in the company of Peter Tobin and is thought to have been attacked by him in the garage attached to St Patrick's chapel house. She was beaten, raped, and stabbed to death, then her body was concealed in an underground chamber beneath the floor near the confessional in the church. Forensic evidence suggested that she was still alive when she was placed under the floorboards. Police found her body on 29 September, and Tobin was arrested in London shortly afterwards. He had been admitted to hospital under a false name, and with a fictitious complaint.
23rd March 2007
, the six-week trial took place at the High Court in Edinburgh,
Tobin denied raping and murdering Ms Kluk and claimed she had consented to have sex with him.
4th May 2007,
Tobin was found guilty of raping and murdering Angelika Kluk and was sentenced to life imprisonment, to serve a minimum of 21 years. In sentencing Tobin, Judge Lord Menzies described him as "an evil man".
15th November 2007,
Tobin was charged with the murder of schoolgirl Vicky Hamilton whose remains were found more than 16-years after she went missing.
Skeletal remains of two young women who went missing in 1991 were found at his former home in Margate, Kent. In addition, Tobin was facing investigation for other unsolved cases of murder dating back to the 1960s. The two bodies, now confirmed as Vicky Hamilton and Dinah NcNicol, had both been buried in his back garden, both had been drugged and strangled.
December 2008
, Tobin was given a life sentence for the murder of Vikki Hamilton, and ordered to serve at least 30 years. The jury took less than two and a half hours to reach a verdict.
There were other cases under speculation including the three 'Bible John' murders in the late
1960
s in Glasgow, Jessie Earl, aged-22, from Eastbourne, who was last seen alive on 15th May 1980, and whose skeletal remains were found in bushes at Beachy Head in April 1989. Patsy Morris, aged-14, from Feltham, found strangled on Hounslow Heath, West London in June 1990.
1st September 2008,
the Crown Prosecution Service (CPS) served a summons on Tobin's solicitors, formally accusing Tobin of Dinah McNicol's murder.
June 2009
. The trial was postponed and the jury discharged in July 2009, the judge ruling that Tobin was not fit to stand trial pending surgery.
Monday 14th December 2009
, Tobin stands trial at Chelmsford Crown Court for the murder of Dinah McNicol.
Wednesday 16th December 2009,
After a three day trial the jury took just 15 minutes to find Tobin guilty of the murder of Dinah.
Judge Mr Justice Calvert-Smith told Tobin: "
This is the third time you have stood in the dock for murder. "On all three occasions the evidence against you was overwhelming. Yet even now you refuse to come to terms with your guilt
".
Thursday 17th December 2009,
police release photographs of 32 items of jewellery found in Tobin's house, none of the pieces have been claimed by ex-wives of friends. Police are concerned that they could be 'Trophies' from other murders.
2010
, During 2010 police searched many of Tobin's former homes; this included a property in Brighton where they dug up the cellar.
Monday 19th October 2010
, Tobin drops plans to appeal his sentence.
January 2011
, Following appeals on the BBC Crimewatch programme detectives were investigating seven cases of rape that it is alleged, may be the work of Serial killer Tobin.
Friday 2nd September 2011
, the body of a man was found at St. Patrick's church in Glasgow. The very church where Tobin worked as a handyman in 2006. Police said there did not appear to be suspicious circumstances, but investigations were continuing.
2019
, It was reported that Tobin had told a prison psychologist that he had killed 45 people. Local police dismissed this, saying he may have killed more, but suggestion's he killed 45 is sensationalist.
It is alleged that Tobin may in fact be the unknown killer nick-named '
Bible John
'. No evidence has ever linked Tobin to these crimes.

5th March 2021
, a former cellmate of Tobin has said that the killer is seemingly getting things off his cheat, as he lays in bed dying from cancer.
Tobin claimed he was NOT the '
Bible joh

n
' killer, but that he had killed others.
January 2022, Tobin transferred from HMP Edinburgh, to the city Royal Infirmary for cancer treatment. He was subsequently taken back to his prison cell.
Wednesday 5th October 2022, it was announced that 76-year-old Peter Tobin had again been transferred to Edinburgh Royal infirmary, where he then passed away.
Tobin was on the Home Office list of prisoners who will serve a 'Whole Life Tariff', never to be released, see list
here >>