Peter Morgan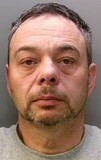 | | |
| --- | --- |
| AKA | |
| DOB | 1963 |
| Occupation | Student |
| Kill Total | 1 |
| Kill Place | Wales |
| Kill Date | Jan 2016 |
| M.O. | Strangulation |
| Victim | Georgina Symonds-25 |
| | |
| --- | --- |
| Court | Newport Crown Court |
| Judge | Mr Justice Garman |
| Prosecution | William Hughes QC |
| Defence | Patrick Harrington QC |
| Case No: | T2016 |
Peter Morgan was a successful millionaire businessman, suggested to be worth around £20 million. Married with two children, Morgan paid Georgina Symonds, an high class escort, £10,000 a month to be his personal escort and described himself as her 'sugar daddy'. He even let her stay in a bungalow he owned on the site of an old Tudor castle.

Miss Symonds threatened to leave him, and that she would release candid photos of him, if he did not transfer money to her and sign over the bungalow he was letting her stay in rent free at Pencoed Castle, Llanmartin.
Morgan overheard all this through an eavesdropping device he had, while she was on the phone to another lover.
12th January 2016, He strangled her with bail twine and tied her dead body to a metal pole. He then drove the body in his Porsche 4x4 from Pencoed Castle the 15 miles to his farm and hid it in plastic sheeting in his workshop.
Miss Symonds was reported missing after failing to collect her daughter from school.

After Miss. Symons's death, police found her mobile phone under the driver's seat of Morgan's Porsche. They were able to access thousands of text messages between Symonds and Morgan, as well as other escorts and clients, friends and family.
In one text, she told a man: "Once I've rinsed Rich Pete, it's you and me baby."


At an initial questioning by police Morgan claimed he had no idea where Miss Symonds was, he said he presumed she had gone to collect her daughter from school.
Once arrested he admitted the killing and gave police keys to the barn.

In a police interview after his arrest, Morgan told police, he had intended killing Georgina Symonds when he started to strangle her, and as she was threatening to blackmail him anyway he 'might as well go through with it.

December 2016, In court Morgan said he was having a mid-life crisis, this is why he was seeing an escort.
Morgan admitted the killing on the grounds of diminished responsibility, admitting he strangled her when she said she was leaving him.
In mitigation his defence claimed he had a mental health issue, in that he had mild asperger syndrome.

21st December 2016, Morgan is found guilty of murdering 25-year-old escort Georgina Symonds, the jury took four days to reach their verdict.
He was sentenced to life imprisonment, with a minimum term of 25-years.