Mick Philpott

With Mairead Philpott & Paul Mosley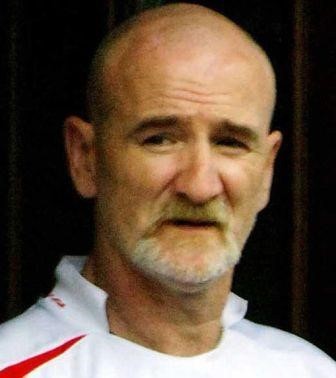 AKA
DOB
10 May 1952

(Taurus)

Occupation
Unemplyed
Kill Total
6
Kill Place
Derby
Kill Date
11 May 2012
M.O.
Arson
Victim
Jayden - 5

Jade - 10

John - 9

Jack - 8

Jesse - 6

Duwayne - 13
Court
Nottingham Crown Court
Judge
Mrs Justice Kate Thirlwal
Prosceution
Richard Brunton Latham QC
Defence
Philpott - Anthony Orchard QC

Mairead - Shaun Malden Smith QC

Mosley - Benjamin Nolan QC

Case No:
T20127295
1978,
Philpott served a prison sentence for attempted murder. A girlfriend broke off their relationship, he was angry at the rejection, he broke into her house in the nigh and stabbed her 27-times, when the girls mother tried to stop him, she too was stabbed, both women were lucky to survive.
On release from prison he met and set up home with a new girlfriend, they had three children together, but it did not last.
1995
, 37-yer-old Mick Philpott met 14-year-old Heather Keo, They had two children together, she moved into his house in Victory Road, she was frequently seen with black eyes or bruising, always stating it was an accident, but neighbours and friends were not convinced.
2000, He would frequently lock her out of the house in Victory Road, Derby. Finally she had enough and escaped Philpott, went to police. A lengthy court battle ensued over the children, with Heather eventually gaining custody.
Later that year he met 19-year-old Mairead Duffy, she became pregnant and was moved into the house in Victory Road.
2001, Mairead gave birth to her first child with Mick, Jade, but Mick had already started a new relationship with single mum, 17-year-old Lisa Willis, she also moved into Victory Road, Philpott boasting to friends "I've got two".

2003, Mick Philpott married Mairead.

Philpott's lived in a 3-bedroom council house in Victory Road, Derby, with wife, Mairead, and their 6-children as well as his mistress Lisa Wills, and her 5-children. All was happy for 10-years, with both women accepting each other.
Both women worked, but due to the number of children in the house, they were entitled to state benefit and council tax relief. They netted £60,000 a year in benefits.
Family friend Paul Mosley, had been a family friend for over 15-years, he had a sexual relationship with Mairead Philpott, and was always at the house.

30th November 2011, Philpott was involved in a 'road-Rage' incident.
He was released on bail for an offence of common assault/ assault by beating, he pleaded guilty to this offence.

February 2012, After 10-years sharing the house, Lisa Wills left, taking her five children, four of whom were fathered by Philpott.
Philpott wanted revenge, a plan was hatched to frame her for arson.

In the weeks before the fire Philpott told fiends that he had been getting threatening text messages from Lisa and her family. one message allegedly said they were going to 'Fire-Bomb' the Philpott house in Victory Road.

Friday 11th May 2012, the same day Philpott was due in court over custody of the children he had with Lisa.
In the early hours of the morning Philpott executed his plan to discredit Lisa, Mairead, and friend Paul Mosley, poured petrol into the hallway of the Victory Road family home.
The plan was that Philpott would then break in through the backdoor and become a hero by rescuing the children.
The plan went dramatically wrong, and Philpotts behaviour afterwards was so strange that police became concerned. Later forensic tests showed that the fire had started in the downstairs hallway, petrol being used as the accelerant, petrol was also found on the clothing of Mick and Mairead Phipott and Paul Mosley.
20th July 2012
, Mick and Mairead Philpott were arrested for murder, but released on bail. .
6th November 2012,
Paul Mosley was arrested and charged with murdering 6 children.
Monday 17th December 2012,
Appearing by video-link from prison the Philpott's were told that the murder charge had been dropped and that they would instead be facing manslaughter charges.
All 3 were charged with 6 counts of manslaughter, they all denied the charges.
February 2013
, The trial opened at Birmingham Crown Court in front of judge, Mrs Justice Kate Thirlwall the 3 accused denied manslaughter of the 6-children.
Tuesday 2nd April 2013
, At Birmingham Crown Court, All three were found guilty of manslaughter. The jury returned a unanimous decisions on Mosley and Philpott, Mairead Philpott was convicted by a majority decision.
Thursday 4th April 2013
, Sentencing at Nottingham Crown Court, the Judge, Mrs Justice Kate Thirlwall, said, "
You are a disturbingly dangerous man. Your guiding principle is what Mick Philpott wants, Mick Philpott gets. You have no moral compass,
" He was given a life sentence with a minimum term of 15 years.
Mairead Philpott and Paul Mosley were each sentenced to seventeen-years (of which they will serve at least half before any released on licence).
29 November 2013,
an appeal by Mairead against the length of her sentence (not the verdict) was heard. The grounds of the appeal was that Mairead had been under the control of her husband and could not exercise free will in her conduct; the appeal was dismissed.
November 2020, Mairead Philpott, now aged-40, released from HMP Send prison.
She will have to stay at a bail hostel for three months before being completely free, and is likely to be given a new name. She will have a 7pm to 7am curfew.
May 2021, 54-year-old Paul Mosley released from prison.

Altogether Philpot fathered 17 children.
See video below for more . . .