Mary Bell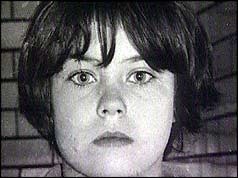 AKA
DOB
25 May 1957
Occupation
School
Kill Total
2
Kill Place
Newcastle
Kill Date
May & July 1968
M.O.
Victim
Martin Brown
Brian Howe
| | |
| --- | --- |
| Court | Newcastle Azizes |
| Judge | Mr. Justice Cusack |
| Prosceution | |
| Defence | |
| Case No: | |
At 11-years-old, Mary Bell is the youngest known female killer in the UK.

A "Geordie" from Newcastle, Mary was born in 1957. Her mother was, unusually for the time, a single mother, as well as being a mentally disturbed woman who once gave her child to a stranger she met outside an abortion clinic.

25th May 1968, Mary Bell strangled four-year-old Martin Brown while they were playing in a derelict house. It is thought that she committed this crime alone.
30th May 1968, Mary went to visit the parents of Martin Brown four days after his body was discovered When the grieving mother told her that the young boy was dead, she replied: "I know he's dead. I wanted to see him in his coffin."
Between that time and the second killing, she and a friend, 13-year-old Norma Joyce Bell (no relation), broke into and then vandalised a nursery in Scotswood, leaving notes that claimed responsibility for the killing. The police dismissed this incident as a child prank.

31st July 1968, the pair both took part in this death, by strangling, three-year-old Brian Howe, on wasteland in the same Scotswood area of Newcastle. Police reports concluded that Mary Bell had later returned to his body to carve an "N" into his stomach with a razor; this was then changed using the same razor but with a different hand to an "M". Mary Bell also used a pair of scissors to cut off some of Howe's hair, scratch his legs, and mutilate his penis. As the girls were so young and their testimonies contradicted each other, the precise details of what happened have never been completely clear.


17th December 1968, Described by court psychiatrist as intelligent, manipulative and dangerous, Mary was found guilty of killing the two children, but due to the psyciatric reports, she was found guilty of manslaugter on the grounsds of diminished responsibility. Mary was also accused of trying to strangle four other girls.
Mary Bell was sentenced to be detained at Her Majesty's pleasure, effectively an indefinite sentence of imprisonment. She was initially sent to Red Bank secure unit in St. Helens, Lancashire — the same place that would house Jon Venables, one of James Bulger's child killers, 25 years later.

1977, Not a model prisoner, Mary escaped from Moor County Prison and was captured three days later. Mary, not one to shy away from publicity, gave detailed accounts to the British tabloid press of how she lost her virginity to a young lad she met during her three days of liberty.

1980, Bell was released from prison.

April 30, 1998, Mary Bell's teenage daughter discovered her mother's true identity as a double child-killer when their home on England's south coast was besieged by reporters. The girl had no idea of her mother's previous life.
She had been living in anonymity under an assumed name until word got out that she had been paid money to tell author Gitta Sereny about her criminal past. Both the Home Secretary and the Attorney General confirmed that they were looking at ways of blocking the payment. With the house under siege by the media, police took Bell and her daughter into protective custody to ensure their safety.

2003, Mary Bell and her 18-year-old daughter were granted the right to live anonymously for the rest of their lives after a High Court ruling that outraged her victims' families.