Mark Rowntree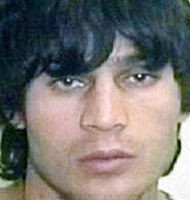 AKA
Paul Page

Mark Evans

DOB
1953
Occupation
none
Kill Total
4
Kill Place
Yorkshire
Kill Date
1975 1976
M.O.
Stabbing
Victim
Joyce Adamson - 84

Stephen Wilson - 16

Barbara Booth - 25

Aian Booth - 3
Rowntree is one of those cases that although classed as a serial killer, is on the bounds of a spree killer, or mass murderer. As he killed his four victims within the space of one week. Terrorising Yorkshire at the same time as the Yorkshire Ripper, Rowntree was, so he claims fulfilling "An urge to kill".

Rowntree was adopted by wealthy parents at birth and lived in their large house near Guisseley, Leeds.

Violent behaviour at school led to being expelled from one public school, the rest of his schooling was many violent outburst, back then the awareness of mental illness was not what it is now, he received no help.

Aged 19, waiting to go off to university, something must have snapped:

December 1975, Rowntree's first attack was in Bingley posing as a policeman he knocked at the door of Mrs. Joyce Adamson, fatally stabbing her through the heart, twice, after burying the weapon he then went for a drink in the local pub, his urge satisfied.

3rd January 1976, the urge came again, he brought a new knife, and attacked 16 year old Stephen Wilson who was waiting at a bus stop. Wilson did not die straight away, and while in hospital was able to give a description of his attacker. The description given was;- mid-twenties, shoulder length dark hair, black jacket, and carrying a shoulder bag.

7th January 1976 he killed a model he had became friendly with, at her house in Leeds, to make sure he was not identified he also killed her three year old son. After getting home from this attack police were waiting for him. He claimed his only regret was that his kill total had not reached five, the same as his hero "The Black Panther" Donald Nielson.

June 1976, Rowntree was a know Schizophrenic, at his trial at Leeds crown court he pleaded guilty to manslaughter on the grounds of diminished responsibility.

The pleas was accepted, Rowntree was sentenced to serve, without time limit at Rampton top Security Psychiatric unit. He also spent time in Ashworh and Broadmooer secure hospitals. It is believed he was held at The Hutton Unit, a secure mental health facility based at St. Luke's Hospital in Middlesbrough.

1st January 2004, At Teesisde Crown Court, Rowntree, who now goes by the name Mark Evans, pleaded guilty to three charges of threatening to kill his social worker. The judge ordered him to be detained at Rampton secure hospital, on an indefinite basis.
He is one of Britain's longest serving psychiatric patents.