Mark Hobson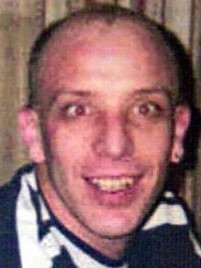 AKA
DOB
2 Sept 1969
Occupation
Bin man & Bouncer
Kill Total
4
Kill Place
Strensall & Camblesforth, Yorkshire
Kill Date
10 & 18 July 2004
M.O.
Stabbing & Beating
Victim
Claire Sanderson-27

Diane Sanderson-27

James Britton-80

Joan Britton-80
| | |
| --- | --- |
| Court | Leeds Crown Court |
| Judge | Mr Justice Grigson |
| Prosceution | Paul Worsley QC, |
| Defence | |
| Case No: | |
Mark Hobson was born on 2nd September 1969 in Wakefield, Yorkshire.
Hobson grew up with parents Peter and Sandra and two sisters, Melanie and Leslie.
Hobson's father was a coal miner and the family moved about, from Wakefield to Eastmoor and then Selby, as coal mines were closed.
Hobson's childhood was described by friends as "happy and stable, one of his teachers recalled him as "very well behaved.
1991, Aged-22, Mark Hobson moved in with his childhood sweetheart, Kay, and her two children from a previous relationship. They got married in 1993 after the birth of their daughter Alice.
Hobson worked at a local power station and was also a landscape gardener.
His wife later described him as having been the "perfect husband."
1998, Hobson registered as a nightclub doorman and began working at "Kans" nightclub in Market Place, Selby.
1st January 1999, Hobson walked out on his family without giving any reason and began using cannabis, cocaine and drinking heavily.
His wife later said: "There was no one else involved, he just didn't want married life any more. It was bizarre. I couldn't believe it. He turned to pot and drinking heavily. He never drank when we were married but now he got out of his face. He became like a zombie... His life just went completely off the rails."
2002, Hobson stabbed a man, believed to be a love-rival, 5 times in the chest in a daylight attack in front of shoppers in Selby, leaving the man with a punctured lung.
Hobson had admitted grievous bodily harm and managed to avoided a prison sentence, instead receiving community service.
April 2003, Hobson moved into a flat with Claire Sanderson, both were heavy drinkers, police were often called to the flat to break up disturbances. It was noted that Claire would give back as much violence as she received from Hobson, it was a volatile relationship.
10th July 2004, Hobson killed new girlfriend 27-year-old Claire Sanderson, in the flat they shared on Millfield Drive, Camblesforth. She was struck on the head seventeen times with a hammer and strangled, after which Hobson proceeded to wrap her body in bin-bags.
A plastic bag had been placed over her head.
Forensic analysis would later determine that Hobson attempted to clean an area of the flat with bleach. It was forensically apparent that Claire had been first attacked in the living room and then taken into the bathroom. although there was no evidence of recent sexual activity, her body had been stripped naked.

17th July 2004, 7:30pm Hobson telephoned Claires twin sister Diane and told her Claire was very ill with glandular fever and wanted her to visit.
When Diane arrived at the flat that evening she was stripped naked,"hogtied", ligatures were found on her wrists, ankles and neck. She was then tortured with a disposable razor and scissors and sexually assaulted, all her pubic hair and been roughly shaved off, and her left nipple was completely bitten off, police believe Hobson may have eaten it. She too was strangled then beaten with a hammer. The post-mortem later showed that the cause of her death was strangulation. Like her sister, her head was also covered with a plastic bag.
That same evening Diane's boyfriend, Ian, ­rang her mobile to find why she had not turned up at a pub as previously arranged. Hobson answered the phone, and was forced to make up a story about the twins' father, George, having suffered a heart attack.
He then calmly arranged to meet Ian Harrison, at the Cricketers' Arms in Selby and, within two hours of Diane's death, they were drinking together, Hobson then invited him back to the flat.
Ian immediately noticed a nasty smell in the flat,­ that of a decomposing body ­ but Hobson fobbed him off with an excuse about the drains being blocked. Ian also noticed bloodstains on the sofa, which Hobson explained as Claire's "women's problems".
Hobson even offered to let Ian sleep on the sofa for the night, despite the twins' bodies being in a bedroom upstairs. When Mr Harrison visited the toilet Hobson stood directly behind him, to ensure he did not go into the bedroom.
Ian left, still worried about his girlfriend but it was not until he visited the Sandersons family home shortly after 7am the next morning and George Sanderson opened the door that it dawned on him that something was wrong.
Sunday 18th July 2004,
The twins' mutilated bodies were discovered by Diane's boyfriend, Ian Harrison and the girls father George.
Escaping the house just before Ian turned up, Hobson asked his mum for a lift to the hospital to visit Claire, who he said had been in an accident, his mum unwittingly aiding his escape plan.
25-miles-away, in the village of Strensall, Hobson wandered into the house of an elderly couple, James and Joan Britton, both aged 80. He battered James with his walking stick, then set about Joan, with her walking stick, then as she lay on the floor Hobson plunged a kitchen knife into Mrs Brittons back with such a force that the blade went straight through his defenceless elderly victim and was only stopped when the blade hit the floor beneath. The knife broke, and the blade was still inside Mrs Britton's body when she was discovered around 11:15 am.
Hobson then went through the house, presumably looking for money, but leaving a trail of fingerprints.
While processing the crime scene at Hobson's home, the police found incriminating evidence including a shopping list which confirmed the premeditated nature of the twins murders.
On the list was big bin liners, tape, tie wraps, fly spray and air freshener along with a list of people who were believed to be potential targetes. These included the twins parents and Mark's ex-wife Kay whom he blamed for taking his daughter away from him.

25 July 2004, Hobson spent the next seven days living in the woods but was suffering due to lack of water. He was desperate so despite the risk of being caught he walked into a petrol station in the village of Shipton-by-Beningbrough, near York, to buy cigarette papers, matches and water.
The garage owner recognised Hobson immediately, after extensive media coverage and a national manhunt, and called police. Within minutes police with police dogs were on the scene, and Hobson was arrested. When he was found Hobson told Police "I'm a fucking murderer aren't I?"
Shortly before the court case, Hobson was placed into solitary confinement at HMP Wakefield, for three months after attacking
I

an Huntley
(a former school caretaker convicted of murdering two female pupils at a Cambridgeshire school), and scalding him with a bucket of boiling water. A prison service spokesman said that, due to the nature of high-security prisoners, "
it's impossible to prevent incidents of this nature occasionally happening.
"
April 2005
, At Leeds crown court, Hobson admitted all 4 murders. For the prosecution, Mr Paul Worsley QC said the circumstances surrounding the murders were "
horrific and chilling".
The trial revealed that Hobson was an alcoholic and cocaine user.
27th May 2005
, Hobson was sentenced to life imprisonment, with a recommendation he never be released.