Mark Brown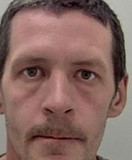 | | |
| --- | --- |
| AKA | |
| DOB | 1981 |
| Occupation | Builder |
| Kill Total | 2 |
| Kill Place | Kent |
| Kill Date | 2021 |
| M.O. | unknown |
| Victim | Leah Ware, 33 Alexandra Morgan, 34 |
| | |
| --- | --- |
| Court | Hove Crown Court |
| Judge | Mr Justice Nicholas Hilliard |
| Prosecution | Richard Atkinson KC |
| Defence | Ian Henderson KC |
| Case No: | T20227007 |
March 2018, 33-year-old Leah Ware was a sex worker, primarily working online. She met up with Mark Brown on the internet. At the time Leah was living in a caravan on a farm, later moving into a converted shipping container.
Miss Ware lived at the farm with her two dogs, Duke and Lady, to whom she was devoted. Leah and Mark Brown began an on / off relationship, with Brown still living with his long term partner, telling Leah he would never leave her. Leah had two terminated pregnancies, in February 2020, and again in November 2020.
6th May 2021, 33-year-old Leah Ware last seen alive by a friend.
7th May 2021, Brown killed Leah Ware.
In the days immediately after the murder, Leah's dog Duke was rehomed with Mark Brown's sister but Lady, a Pomeranian, was never seen again.
During a police search of the farm, the skeletal remains of a Pomeranian were found in a pond on the site, at the end of a collar and lead tied to a weight. It is believed that these are Lady's bones.
Leah Ware's remains have never been found and Mark Brown maintains she is still alive
While searching Brown's van, Kent Police officers found prescription drugs in Ms Ware's name.
Also, after her disappearance Brown was caught on CCTV collecting her prescriptions and withdrawing cash on her bank card.
November 2021, Alexandra Morgan reported missing.
Alexandra Morgan's remains, including burned bone fragments as well as teeth, were found inside an oil drum in a skip at a building site near Sevenoaks, Kent, where Brown was working at the time of her disappearance.
Brown claimed that Alex Morgan had slipped and fallen on a tool or piece of mechanical equipment in a workshop he rented at Little Bridge Farm, near Hastings, hitting her head.
"There was "a lot of blood".
Brown slipped up by sending a friend a message that said:- "I'm going to be very careful how I word this, It happened again, not very long ago when disposing of something." It's a very unpleasant thing to do - an old oil drum, five litres of diesel, and hey presto, there's not very much left."
Brown sent another message to a different friend, "The things I have done weigh heavily on my heart, on my head and my soul. A psychopath with a conscience - it's a joke really."
He also told his boss he was going to prison for life.
during investigations, police inspections of his phone showed he had a taste for violent pornography and secretly used a website to meet up to ten different escorts for sex.
October 2022, Trial opens at Hove Crown Court in front of judge Mr Nicholas Hilliard.
In his defence, Brown claimed Alex Morgan died in an accident at the farm after slipping and hitting her head - and that he then disposed of her body 'in a panic' because the sight 'looked like a murder scene'.
Brown, of Squirrel Close in St Leonards on Sea, East Sussex, claimed that as far as he knows, Ms Ware is still alive and well.
Tuesday 29th November 2022, the jury retires to consider the verdict. The jury of ten men and two women, took just over 10-hours across two days, to find Mark Brown guilty of two murders.
Thursday 1st December 2022, at Hove crown court Brown is found guilty of double murder. The judge postponed sentencing till January. The judge stated that if Brown were to tell the police the location of Ms Ware body, this would be taken into account at sentencing.
Friday 13th January 2023, Brown was not present at sentencing after refusing to attend at Hove Crown Court, he also has still not told anyone what he had done with the body of Leah Ware.
Mark Brown was given two life sentences, to be served concurrently, he was ordered to serve a minimum term of 49-years behind bars.
Judge Hilliard, said: "No sentence I pass is any measure of the lives lost. Nothing can put right what the defendant has done, that is not possible. His conscience is untroubled by what he has done."
Brown will be eligible to apply for parole in May 2071, he would be aged-90.