Margaret Allen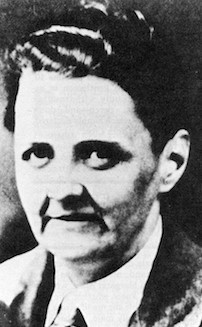 | | |
| --- | --- |
| AKA | |
| DOB | 1901 |
| Occupation | Bus Conductor |
| Kill Total | 1 |
| Kill Place | Rawtenstall, Lancashire |
| Kill Date | 1948 |
| M.O. | Beating |
| Victim | Nancy Chadwick-68 |
Since her early twenties, Margaret Allen had worn men's clothing and expressed that she wanted to be a man, and wanted everyone to call her "Bill."
She wore her hair in a short, slicked-back cut, a common style for men at the time.
She once went on holiday to Blackpool with her best friend, Annie Cook, and they checked into a boarding house under the names "Mr. Allen" and "Mrs. Allen."


1935, after a stay in St. Mary's Hospital, Manchester, Margaret told people she'd had a sex change operation and was now a man.
1943, Margaret Allen's mother died in 1943, she did not taken it well, she was estranged from all twenty one of her siblings, possibly because of her being trans-gender.
1945 she received medical treatment for attacks of dizziness and she became depressed.
29th August 1948,
The body of local eccentric Nancy Ellen Chadwick was found in the street outside Margaret Allen's house.
Nancy Chadwick was an elderly widow known to be a little eccentric, she often visited Margaret.
On investigation the police discovered blood stains on the wall inside the front door of Allen's house. When asked by the police why she had murdered Ms Chadwick, she replied, "
I was In one of me funny moods and the old woman got on me nerves
".
Had she not made this statement she may have been able to plead insanity which was almost certainly the case. Her defence failed and she was sentenced to be hanged.

The murder weapon was a hammer which Allen had used to batter the 68-year-old to death, raining blows to the head.
At her trial she was dressed in men's clothing. The trial took only five hours and the jury reached their verdict in only 15 minutes. Although a petition was raised to try and save her only 162 signatures were collected.
12th January 1949
, Margaret Allen was hanged at Strangeways prison by executioner
Albert Pierrepoint.