Luke Mitchell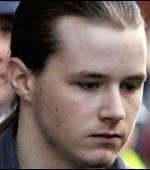 AKA
DOB
24 Jul 1988

(Leo)

Occupation
Schoolboy
Kill Total
1
Kill Place
Dalkeith, Scotland
Kill Date
June 2003
M.O.
Stabbing
Victim
Jodi Jones-14
| Court | Edinburgh High Court |
| --- | --- |
| Judge | Lord Smith |
| Prosecution | |
| Defence | Donald Finley |
Living in neighbouring small Scotish villagers, 14-year-old's Jodi Jones and Luke Mitchell started dating in late 2002.
Monday 30th June 2003
, Jodi and Luke arranged to meet up after dinner as was usual, along a path that connected the two houses called woodland Dyke path
Allegedly Jodi did not show up to meet Luke.
At 10pm her family realised she has not been seen since 5pm. Luke went to the top of the path to help her family look for her. They all went out to search, the search party included Luke, Jodi's sister, and her sisters boyfriend Stephen Kelly.
Her semi-naked body was discovered behind a wall someway down the path, Luke's dog Mia having led them to the body.
The attack on jodi had been savage, Jodi had been hit on the head and body many times, and compressing to her neck, restricting her breathing.
She had also repeatedly stabbed, with a knife both before and after death, inflicting wounds to her face, ear, mouth, breast and abdomen. The damage to her neck was so bad she was nearly decapitated.
Police attention turned to Luke, on a search of his bedroom they discovered bottles of urine, as well as cannabis paraphernalia, they also found signs of satanic slogans on books. Luke was immediately labeled a devil worshiper by locals and the press.
Further, two eyewitnesses came forward to say that they had seen Luke Mitchell at the bottom of the path where the murder took place, and around the same time.

14th April 2004, Police arrest Luke Mitchell and charge him with murder. There was circumstantial evidence but no DNA evidence. Luke claimed that at the time of the murder he was at home cooking dinner, his mother and brother confirmed this. They were both arrested and charged with attempting to pervert the course of justice.

21st January 2005, After a trial that lasted 42-days, Luke Mitchell, then aged-16, from Dalkeith, was convicted by majority verdict at the High Court in Edinburgh of killing his former girlfriend, the jury deliberated for 24-hours.

Mitchell did not attend the trial. Mitchell was ordered to serve at least 20-years in prison after being found guilty.

The trial took nearly three months, it was restarted in front of a new jury, convened in four different locations and even ventured into the fresh air for an unusual visit to the murder scene itself.
It became what is believed to be the longest trial of a single accused in Scottish criminal history.

During Mitchell's trial the prosecution attempted to show just how a 14-year-old boy could become, in the words of the prosecutor, "a cool, confident, arrogant killer".
The jury heard that Mitchell was an obsessive fan of controversial American rocker, Marilyn Manson.
The US star's website shows his obsession with a grotesque California murder in the 1940s, which became known as the Black Dahlia killing.
Jodi's death and the wounds to her body held similarities, the prosecution argued.

March 2006, Mitchell was granted leave to appeal against his conviction (and the length of his sentence) at the High Court of Judiciary sitting as the Court of Criminal Appeal in Edinburgh, on the grounds that the trial judge should have moved the trial outside the city.

February 2008, The Court of Criminal Appeal in Edinburgh heard Mitchell's appeal.

15th May 2008, Mitchell lost his appeal against the conviction for the Murder of Jodi in 2003, Mitchell's original conviction was upheld by Lord Osborne, Lord Kingarth and Lord Hamilton.
They ruled that there was sufficient evidence in law that Mitchell could be convicted on.

2nd February 2011, Mitchell's appeal against sentence was refused.

20th July 2012, lawyers acting for Mitchell launched a fresh bid to have his conviction overturned when a 300-page dossier was hand delivered to the Scottish Criminal Cases Review Commission. The dossier included claims that a Mitchell lookalike may have confused eyewitnesses.

July 2014, the SCCRC revealed that police officers breached Luke Mitchell's human rights when they questioned him over the murder of his teenage girlfriend Jodi Jones. However, they determined he was not the victim of a miscarriage of justice.
February 2021, Channel five aired a documentary about the case. In it two ex-police officers claimed there was insufficient evidence to convict Luke.
The program also concluded that there was no DNA evidence to link Luke to the scene. The only DNA found, which was on Jodi's tee-shirt, belonged to her sisters boyfriend, Stephen Kelly. Other male DNA was also found at the scene.
A petition with over 20,000 signature was conducted after the filming.
September 2021, after the channel five film Luke started to get fan mail from people believing his innocence. Mitchell, now aged-33, still maintains he's innocent.
He penned a hand-written letter from his prison cell in HMP Shotts, North Lanarkshire, saying he hoped to be freed soon, and thanking people for the support.