Jordan McSweeney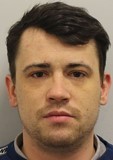 | | |
| --- | --- |
| AKA | |
| DOB | 1993 |
| Occupation | Fairground worker |
| Kill Total | 1 |
| Kill Place | Ilford, Essex |
| Kill Date | June 2022 |
| M.O. | Beating |
| Victim | Zara Aleena-35 |
| | |
| --- | --- |
| Court | The Old Bailey |
| Judge | Mrs Justice Cheema-Grubb |
| Prosecution | Oliver Glasgow KC |
| Defence | George Carter-Stephenson KC |
| Case No: | T20227222 |
Jordan McSweeney's childhood was traumatic, he was expelled from two schools - one for selling drugs to fellow pupils. His mother was a drug addict and had little interest in her child. McSweeny was often left on his own, and at one time was sexually abused by a family member. McSweeney was taken into care, moving from home to home with little love and affection.

2006, When he was 13-years-old, he had begun bare-knuckle fighting for money.
McSweeney was diagnosed with ADHD, mixed depression and anxiety disorder, substance misuse and a personality disorder (PD).
2010, aged-17, McSweeney was convicted of an attack on a young woman.
2021, he was given a restraining order not to go near a particular female after abuse.
17th June 2022, McSweeney was freed on licence from a prison sentence for criminal damage, racially aggravated harassment and unauthorised possession of a knife. One of the conditions of release was that he attend probation appointments.
After missing two meetings, he had to be recalled to jail.
22nd June 2022, the probation service started the recall to prison process.
25th June 2022 In the early hours of the morning, police officers visit McSweeney's mother's house to arrest him - but he is not there.
McSeeney has 28 previous convictions for 69 different offences, including burglary, assaults on police and members of the public, criminal damage, theft of motor vehicle, driving offences, offences committed while on bail, and shoplifting.
26th June 2022, While inside a pub with a friend, McSweeney had groped a female customer and tried to molest a female member of staff before he was kicked out of the pub at 11pm, left to wander the streets.
He later followed and harassed other women in the streets of Ilford, including an unidentified woman who he pursued for up to 21-minutes.
The woman realised he was following her and entered a shop, showing her concerns by looking backwards towards the doorway. All of this was caught on CCTV.
2:15am, McSweeney grabs Zara Aleena from behind, one arm around her neck, the other with his hand over her mouth. He then dragged her from the pavement into the driveway of a house in Cranbrook Road Ilford, he threw her to the ground. Zara struggled and fought against her attacker.
McSweeney knocked her to the ground again, parted her legs, she fought back, before he attacked her and pulled her back onto the ground yet again.
He then knocked her unconscious, and she stopped moving. McSweeney then kicked and stamped on her with repeated, heavy assaults.
He was fully aware of what he was doing, as he ducked out of sight when a passerby came past the scene.
MxSweeney stamped on Zara, he repeatedly stamped down on her body and head again and again, using the garden fence balustrade for balance. McSweeney stole some oggf her possesions and clothing, these were left strewn and discarded along the street.
Ms Aleena was discovered by two couples who had walked past, and paramedics were called, The ambulance crew tried to save her on the driveway where she was attacked, for over an hour. She was partially naked and struggling to breathe, having sustained 46 separate injuries in the nine-minute beating. She was taken to the Royal London hospital, but died later that morning from, her injuries.
Zara was left with 46 separate injuries, including blunt force trauma to head, chest and genital area.
27th June 2022, the following day police arrived at McSweeny's caravan at Valentine park, where McSweeney was working as a fairground worker in Ilford, and arrested McSweeney after identifying him via fingerprint evidence, after he had left fingerprints in blood on the fence balustrade.
Police also found his bloodstained jeans and trainers at the fairground ticket office, they were matched to Zaras' blood.
At the police station under questioning he stated he had ADHD and was on medication, and also suffered a split personality. He claimed blood was from where he was bitten by a dog. During following interviews he refused to talk about the inncident.
November 2022, at The Old Bailey in London, Jordan McSweeney, aged-29, admitted killing and sexually assaulting 35-year-old law graduate zara Aleena in Ilford, east London, in June 2022.
Thursday 14th December 2022, Jordan McSweeney is sentenced to life with a minimum tariff of 38-years behind bars. McSweeney was also given a four-year jail term for sexual assault, the sentence will run concurrently. McSweeney refused to leave the court cell to hear sentencing. McSweeney is currently held at HMP Belmarsh.
McSweeney is eligible for parole application in july 2059.