John Straffen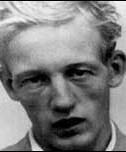 AKA
DOB
27 Feb 1930

(Pisces)

Occupation
None
Kill Total
3
Kill Place
Bath & Broadmoor
Kill Date
1951 & 1952
M.O.
Various
Victim
Brenda Goddard

Cicely Batstone
Linda Bowyer
John Straffen was born in Hampshire in 1930 but spent his early years in India as his father was in the army. The family returned to the UK in 1938 and settled in Bath.
As he progressed through school life Straffen became a thief and a truant. At age 10 he was sent to a school for 'backward' children.
27th July 1947
he assaulted a 13-year-old child, who claimed a man had approached her and said "What would you do if I killed you? I have done it before." A few weeks later it was discovered that Straffen had strangled a few chickens following an argument with a girl. Straffen was committed to a mental institution in Bristol, where a medical officer at Horfield Prison examined Straffen and labelled him 'feeble minded'.
February 1951
, Staffen released from care at Hortham Colony in Bristol.

15th July 1951
, Straffen came across six-year-old Brenda Goddard who was picking flowers on some rough ground behind her house. He persuaded her to walk with him, one in a local wooded area, he strangled her.
Straffen was questioned by police over the incident, he admitted to being in the area, but was released due to lack of evidence.
August 1951,
nine-year-old Cicely Batstone, was at a cinema when Straffen came across her, he used his persuasive techniques and the two got on a bus across Bath to an area known as 'The Tumps'. Here he strangled her. He later said about the killing; ""I sat behind her, it only took a couple of minutes, and she was dead, she was taken by surprise."
Straffen was arrested for another crime, while sat in his cell he called police in, and confessed to the murder of Cicely, saying he wanted to give the police "something to do".
October 1951
, Straffen appeared before a Taunton court, he was found unfit to plead and was sent to Broadmoor secure psychiatric unit.
29th April 1952
, Straffen escaped from Broadmoor, and although he was caught later the same day - within 4-hours, it was not before he had strangled 5-year-old Linda Bowyer. The body of the young girl was found the next day in a field close to Broadmoor. Straffen implicated himself by telling officers 'I did not kill the little girl on the bicycle.' This was before they had asked him about the murder.
24th July 1952
, Straffen appeared at Winchester Crown Court and pleaded not guilty. His ability to plead was accepted and he was found guilty and sentenced to death.
An appeal against sentence was lodged, and a reprieve was granted. He was returned to Broadmoor to see out his days. He was later found sane and transferred from Broadmoor to Wandsworth prison to serve the rest of his sentence. Over the years he moved prisons many times, at one time serving time at Durham prison with fellow child Killer
Ian Brady

.
2001,
Straffen's solicitor called for the case to be reopened as Straffen had never been fit to stand trial, this came to nothing.
19th November, 2007, Straffen died in HMP Frankland at the age of 77.
Straffen was on the Home Office list of prisoners who must serve a 'Whole life' tariff, see list
here >>