Joanna Dennehy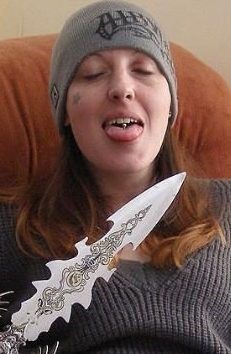 AKA
Peterborough ditch murders
DOB
Aug 1982

(Leo)

Occupation
none
Kill Total
3
Kill Place
Peterborough
Kill Date
March 2013
M.O.
Stabing
Victim
Lucasz Slabosvewski

John Chapman

Kevin Lee
| | |
| --- | --- |
| Court | The Old Bailey |
| Judge | Mr Justice Spencer |
| Prosecution | |
| Defence | Nigel Lickley QC |
| Case No: | TS2014020 |
Dennehy apparently had a normal upbringing in St Albans, Hertfordshire, but when she hit her teen years things changed, she took to drink and drugs, and began self-harming by cutting herself.

At 15-years-old she took up with 21-year-old John Treanor, she moved out of the family home and after a while on the streets the pair moved to Luton, Bedfordshire, and then, after upsetting a drug dealer, to Milton Keynes.

Joanna fell pregnant in 1999. She was angry as she never wanted children, she drank heavily, took to cocaine and started various affairs.
John moved to Norfolk with their daughter. Various reconciliations happened in the next few years, but each time she reverted to the bottle. After setting up home in Cambridgeshire in 2005 she fell pregnant again, this time John had enough of the drinking and violence, and disappeared with the two children.

Joanna then moved to Peterborough, Cambridgeshire, and set up with a fellow drinker known as Gary Stretch, at 7 foot 3 inches tall he was a beast of a man, and was besotted with her. But, she continued playing around with both men and women.

19th March 2013, Joanna met Lucasz Slabosvewski, who had recently moved to the UK from Poland, while on a drinking spree in Peterborough town centre. The couple went back to her place, drank large amounts of vodka, then when Joanna asked to blindfold him he agreed thinking a sex games was about to happen, instead, as soon as the blindfold was on she plunged a knife into his chest, piercing the heart and killing him instantly.
She called her friend Gary Stretch to help with getting rid of the body, he arrived with Leslie Layton, the two moved the body to a bin behind the flats. They returned several days later to move the body, dumping it in a ditch on the outskirts of the city.

28th March 2013, Living in the same block of flats as Joanna was 56-yeasr-old John Chapman, a Falklands war veteran, she called into his flat, the two started on the vodka, but as soon as he passed out she produced her knife and stabbed him in the chest and neck six times.

Again, she had a body problem, she called the helpful duo of Stretch and Layton who moved the body to a ditch very close to the first body.
That same evening she lured her landlord and occasional lover Kevin Lee to her flat, when his back was turned she produced the knife and carried out a frenzied attack on him.
Stretch and Layton this time moved the body to a ditch some seven miles away.

30th March 2013, After Kevin Lee's family reported him missing police started a search, the body was then discovered in the ditch, Joanna Dennehy was to become a 'Person of Interest' to the police.
But, when they went to question her she had fled the country along with Gary Stretch.

2nd April 2013, The pair tuned up in Hereford attempting to sell stolen goods to an old friend, Mark Lloyd. He agreed to help and the three set off in a car, along the way on two occasions Joanna Dennehy asked to stop the car, each time she got out and stabbed a passer-by, before getting back in the car and laughing. Luckily both of these men, although suffering serve stab wounds, survived the ordeal. Both men, when the case came to trial were able to identify Dennehy by the distinctive star tattoo on her face.

3rd April 2013, The two other bodies were found in ditches in Thorney. The connection to Dennehy was now obvious.

November 2013, at The old Bailey Dennehy pleads guilty to murdering three men, and the attempted murder of two others. Sentencing was deferred to allow for psychiatric reports.

28th February 2014, Dennehy was given a life sentence with a recommendation she serve a whole life tariff, never to be released. See liost of 'Whole Life' prisoners Here >>
Charges:-
Three murders - life
Two attempted murders - life
Obstructing a coroner / Intending to prevent a coroner from holding an inquest / Preventing the Burial of a Body [3 counts] - 14 years
See the judges closing remarks Here >>
Gary Stretch was sentenced to life imprisonment for attempted murder, Leslie Layton was sentenced to 14-years for perverting the course of justice. Mark Lloyd who had been in the car on the attempted murders was not charged with any offence. Both Stretch and Layton refused to take part in the trial and gave no evidence.
A third man Robert Moore was sentenced to 14 years for aiding and abetting after he offered Dennehy and Stretch shelter while they were on the run.

Read the Judge's summing up statement here >>
After the trial it emerged that the Probation Service had been supervising Dennehy at the time of the murders as she had been convicted of assault and owning a dangerous dog. It was later concluded that the staff dealing with her were inexperienced.
A psychiatrists later diagnosed Dennehy with psychopathic, anti-social and emotionally unstable personality disorders.

26th May 2016, It was revealed that Dennehy had plotted an escape by using the fingerprints of a prison guard to bypass prison biometric security.
Dennehy had been in the high court for an appeal against the decision to keep her in solitary confinement.
Officers discovered details in her diary in her cell. With the help of two other inmates she was going to kill a guard and cut off her fingers to bypass security.
13th June 2019, Dennehy was being held at HM Prison Bronzefield, but was transferred to Low Newton Prison in County Durham, the same place Rose West was being held. Dennehy allegedly said "i'm going to kill that bitch".
West was then moved to New Hall jail in Wakefield, West Yorkshire, for her safety.