James Hanratty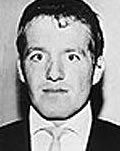 | | |
| --- | --- |
| AKA | A6 Murder |
| DOB | Oct 1936 |
| Occupation | |
| Kill Total | 1 |
| Kill Place | Clophill, Bedfordshire |
| Kill Date | 22 Aug 1961 |
| M.O. | Shooting |
| Victim | Michael Gregsten - 36 |
James Hanratty was a petty thief, his thievery ranged from robbing houses to stealing cars.
This meant that he had to be able to drive off, in any type of a car at a moment's notice. James' criminal career earned him a living but also, in 1955, his first prison sentence. Prison is often considered an occupational hazard for the professional criminal but James did not cope well inside. Soon after entering, he slashed his wrists, he failed in his suicide attempt.
22nd August 1961, Michael Gregsten a 36-year-old research scientist at the Road Research Laboratory at Langley, near Slough. Was a married man, he and his wife Janet had two boys, Simon, eight, and Anthony, nearly two. Despite this, Michael was having an affair with his 22-year-old lab assistant, Valerie Storie.
A Tuesday after work, Michael picks up Valerie in his Morris Minor and drives her to the Old Station Inn for a drink, at around 9pm, the pair drive to a nearby cornfield in Dorney Reach by the Thames in Buckinghamshire. Once they think they're away from prying eyes, they have sex. At some point they were hijacked by a man with a gun, the man made them drive around for hours, eventually ending up at Deadmans Hill on the A6 just outside Clophill, Bedfordshire. Gregsten moved and made Hanratty jump, Hanratty fired two shots into Gregsten's head, after a while Hanratty made Miss Stori e get out of the car, in the dark he fired five shots into her, she slumped next to Gregsten and passed out, she survived, but the injuries left her paralysed from the waist down, for the rest of her life. Believing the pair to be dead, Hanratty drove off southbound, in the direction of Luton.
23rd August 1961, At 6:45am a local man, farm labourer Mr Burton, sees Valerie lying on the side of the road and alerts John Kerr, an Oxford student carrying out a road census on the A6, they flagged a passing car down, and the police were called. While waiting Kerr managed to get a few details from Valerie before she fell unconscious. Later that same evening Michael's Gregsten's 1956 Morris Minor was found abandoned behind Redbridge Tube station in London.
Thursday 24th August 1961, the murder weapon, a .38 revolver, was discovered under the back seat of a 36A London bus, fully loaded and wiped clean of fingerprints. With the gun was also a handkerchief which provided DNA evidence many years later.

9th October 1961, Hanratty was arrested in Blackpool, and picked out by Valerie Storie from an identification parade , and sent for trial at Bedford Assizes.
22nd January 1962, The trial lasted 21-days, at the time this was the longest in British legal history.
The whole trial centred on the issue of identification. Hanratty claimed to have been in Rhyl on the day of the murder, 200 miles away from the murder scene in Clophill, Bedfordshire.
Following 9½ hours of deliberations, the jury convicted Hanratty of the murder of Michael Gregsten. James Hanratty was then sentenced to death by hanging.

4th April 1962, Hanratty was hanged at Bedford Prison.

The Aftermath
There has been a great deal of controversy regarding the conviction and execution of James Hanratty. The controversy is mainly concerned with the question of correctly identify the suspect. Also the need to established beyond reasonable doubt that the suspect was the guilty person.
James Hanratty's remains have since been exhumed from Bedford Prison, and reburied in Carpenter's Park Cemetery, which is located near Bushey in Hertfordshire.

22nd March 2001, James Hanratty's remains were exhumed so that a DNA sample could be taken for analysis. The results showed there was a 2.5 million to one chance that the samples came from someone other than Hanratty. DNA sample extracted from Hanratty's exhumed body was matched by forensic experts to two samples from the crime scene.

10th May 2002, the Court of Criminal Appeal (Lord Chief Justice Woolf, Lord Justice Mantell and Mr Justice Leveson hearing the appeal) ruled that Hanratty's conviction was not unsound and that there were no grounds for a posthumous pardon.