James Fairweather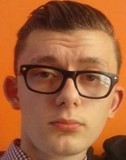 AKA
DOB
5 Aug 1998

(Leo)

Occupation
Student
Kill Total
2
Kill Place
Colchester
Kill Date
Mar & Jun 2014
M.O.
Stabbing
Victim
James Attfield-33:

Nahid Almenea-31
| | |
| --- | --- |
| Court | The Old Bailey |
| Judge | Robin Spencer QC |
| Prosecution | Philip Bennetts QC |
| Defence | Simon Spencer QC |
| Case No: | T20160019 |
James Fairweather went to school at Colchester Academy. There he was bullied for his prominent ears. He struggled at school, in part due to dyslexia.
2013, at 14-years-old, Fairweather was convicted for criminal damage to a house.
January 2014, Fairweather was convicted of robbery of cigars from a shop, he was sentenced to a year's supervision.
29th March 2014, 33-year-old James Attfield, who had a brain injury, was stabbed to death in Colchester, Essex. Attfield was a father-of-five and had brain damage after a car accident. He was lying on the grass at Castle Park after a drinking session, when he was attacked by Fairweather.
Mr Attfield was found bleeding to death by paramedics, who could not save his life, he had suffered over 100 stab wounds, including some to his arms and hands, which shows he was aware enough to try and defend himself.
17th June 2014, Nahid Almanea, a 31-year-old Saudi student of the University of Essex, was stabbed and killed.
Ms. Almanea was killed in overgrowth on Salary Brook Trail close to her home. Fairweather had stabbed her in the abdomen before forcing the knife into her eyes and ultimately her brain.
The two victims were not connected which gave police little to go on.They interviewed over 900 people, Fairwaether being one, but he had an alibi and was discounted.
27th May 2015, The public in the area were on high alert as no one had been caught for the two previous stabbings, Fairweather was spotted loitering early in the morning by a concerned dogwalker. The police were called and they interviewed Fairweather, who was wearing rubber-gripped gloves and carrying a knife. He was arrested.
August 2015, Fairweather told a psychiatrist some of the "most anti-social and violent thoughts" the professional had ever heard, saying that voices were telling him to burn babies and kill prostitutes.
Searches of Fairweather's possessions included documentaries about serial killers such as the Yorkshire Ripper, this raised police suspicions.
January 2016, trial starts at the Old Bailey in London, Fairweather denied two charges of murder and possessing an illegal weapon, but admitted to two charges of manslaughter on the grounds of diminished responsibility. Normally a 15-year-old would be sent to trial as a child, but in view of the crimes,m he was tried as an adult.
Fairweather claimed to have psychosis, which was not found by a court psychiatrist. In court, Fairweather said that voices had chosen Attfield to be his first victim, and the voices began to laugh as he stabbed him. On the killing of Ms Almanea, Fairweather said he stabbed her eyes so she could not "see evil".
22nd April 2016, Fairweather was found unanimously guilty by the jury, and was to be sentenced a week later, to allow for reports.

29th April 2016, Fairweather was sentenced to life imprisonment with a minimum of 27-years behind bars.
September 2016, Fairweather tried to appeal the sentence on the grounds of his age, but this was rejected.
He is eligible for parole application in April 2043.