Ian McLoughlin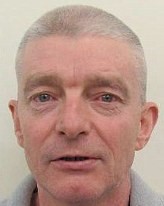 | | |
| --- | --- |
| AKA | Ian Baker |
| DOB | 31 May 1958 |
| Occupation | various |
| Kill Total | 3 |
| Kill Place | London, Brighton, Hertfordshire |
| Kill Date | 1983, 1992 & 2012 |
| M.O. | Stabbing |
| Victim | Len Delgatty Peter Halls Graham Buck - 66 |
| Court | The Old Bailey |
| --- | --- |
| Judge | Mr Justice Sweeney |
| Prosecution | Ann Evans |
| Defence | |
| Case No: | T20137382 |
Between May 1970 and October 1983,
Ian McLoughlin was sentenced on fourteen separate occasions for various offences including burglary and theft.
1983
, McLoughlin beat Len Delgatty over the head with a hammer, then strangled him with a towel, and hid his body in a cupboard, it is believed they were having a sexual relationship. McLoughlin later claimed he lost his temper after Delgatty, who liked to have sex with under age boys, played him a video of gay underage sex.
Police only discovered the crime after a drunk McLoughlin crashed the car he was driving and was found to have Delgatty's credit card.
19th September 1984
, He was convicted of manslaughter, and sentenced to ten years in prison, reduced to eight years on appeal, he was released after serving five years.
1989
, McLoughlin was Released on license.
September 1991,
After his release from prison he moved to Brighton, and got a job in a bar. McLoughlin stuck up a sexual relationship with barman Peter Halls.
He forced Halls to lay on the bed in a fantasy game, and stabbed him in the back.
2nd July 1992
, McLoughlin was given a life sentence at Lewes Crown Court, with a minimum term of 25 years.
13th July 2012
, Let out on day release from HMP Spring Hill. in Aylesbury, He decided to rob the home of ex-prisoner and sex offender, 86-year-old Francis Cory-Wright, the two had met whilst in prison.
McLoughlin tied him up while he searched the house, he was just about to leave with a pillowcase full of family heirlooms when neighbour Graham Buck came to investigate shouting, he was dragged into the house, then attacked and killed by McLoughlin, who stabbed him in the neck.
After this he went on a drinking binge, ending up at a friends house. Police found him after they turned up to reports of men arguing at a house.
21st October 2013
, McLoughlin admitted murdering Graham Buck in Littler Gaddesden, Hertfordshire.
at the Old Bailey he was sentenced to life, with a minimum term of 40 years.
18th February 2014
, In the Court of Appeal, The Attorney General appealed the 40 year sentence given at the Old Bailey trial, and petitioned for a 'Whole Life Tariff', This was granted, putting McLoughlin on the list of prisoners who will never be released, and never considered for parole, see full list of prisoners on a 'Whole Life Tariff'
here >>
Further reading on the court judgement can be seen
here >>