Herbert Armstrong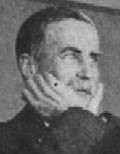 | | |
| --- | --- |
| AKA | |
| DOB | 1869 |
| Occupation | Solicitor |
| Kill Total | 1 |
| Kill Place | Hay-On-Wye |
| Kill Date | Feb 1921 |
| M.O. | Poisoning |
| Victim | Kathleen Armstrong |
| Court | Hereford Court |
| --- | --- |
| Judge | Mr. Justice Darling |
| Prosecution | |
| Defence | |
Herbert Armstrong was a 53-year-old solicitor in the picturesque Hay-on-Wye. He was also a retired Territorial Army Major.
He was a small, and mild-mannered man who married a domineering, nagging woman who nagged him continuously. His wife, Katherine, was a hypochondriac and was certified insane in July 1920.
She returned home after several months in an asylum but died of an agonising illness shortly after her return. Her death was certified as gastritis by a doctor, Armstrong then went on a long holiday to recover from the ordeal.

Another solicitor in Hay-on-Wye was Mr. Oswald Martin, was in dispute with Armstrong professionally. Armstrong invited Martin to tea where he handed Martin a scone, apologising, saying, "Excuse fingers." Later that day Martin was violently ill and his father-in-law, who was also the town's chemist, informed the doctor treating Martin that Armstrong had made several purchases of arsenic.
The doctor agreed to send a sample of Martin's urine for analysis and, as suspected, it proved to contain quantities of arsenic.

31st December 1921, Armstrong was arrested and charged with the attempted murder of Oswald Martin.

Mrs Armstrong's body was then exhumed and Bernard Spilsbury, the famous pathologist, carried out a post-mortem. It contained two hundred and eight milligrams of arsenic. Though the body had been buried for ten-months it was in a remarkable state of preservation, this being due to the mummifying effect of the arsenic.

3rd April 1922 Armstrong was tried at Hereford for the murder of his wife and the trial is notable for the weight of medical evidence. Armstrong had a hard time trying to explain away why he even had a packet of arsenic in his pocket when arrested, he was subsequently found guilty.

31st May 1922, Armstrong went to the gallows at Gloucester Prison where John Ellis and Edward Taylor hanged him.
Armstrong was the only solicitor ever to be hanged in England.