Frederick Seddon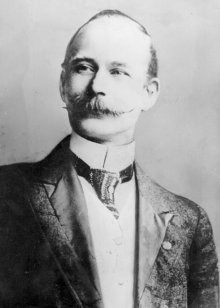 | | |
| --- | --- |
| AKA | |
| DOB | |
| Occupation | |
| Kill Total | 1 |
| Kill Place | London |
| Kill Date | 1911 |
| M.O. | Poisoning |
| Victim | Eliza Barrows |
12th July 1910, Eliza Mary Barrow was a close neighbour to Seddon and his wife, who had purchased a 14 room house in Finsbury park in 1900 as a way of renting rooms to make money. Eliza moved in with her ten year old ward, and family friend Ernest Grant.
Seddon was obsessed with making money, and quickly persuaded Eliza to hand over control in her financial affairs to him, in retune he would care for the 49-year-old Eliza for the rest of her life.

August 1911, Almost as a way of showing the trust, Seddon took his own family and Eliza and her family on holiday to Southend. When they got back Seddon had asked Eliza's daughter to go and collect flypaper from the shop.
The following day Eliza was very ill, suffering terrible stomach pains. A doctor was called, and he gave morphine.

13th September 1911, Eliza was so ill and confined to bed, she made a will written by Seddon and witnessed by members of his family, naming Seddon as the executor of her estate.

14th September 1911, at 6:25am while being looked after by Seddon's wife, Eliza Barrow died.
Seddon went to the doctors, who issued a death certificate without ever seeing a body.

15th September 1911, Although Eliza's family had a vault in a graveyard in Islington, Seddon went to the undertakers and arranged a paupers funeral, and an unnamed plot.
The funeral had been arranged so quickly, and excluded Barrows family, they became suspicious, and on;-

15th November 1911, The body of Eliza Barrow was exhumed. A Young Home office pathologist, Bernard Spilsbury, conducted a post-mortem, and found traces of arsenic in her body.

15th March 1912, Both Frederick Henry Seddon, and his wife were accused of murder.
At the trial the prosecution were able to prove that the Seddon family had purchased large amount of flypaper, that contained arsenic. Seddon claimed that Eliza might have drunk water from the dishes of flypaper placed in her room to keep away flies.
The jury took an hour to find Seddon guilty, and he was sentenced to death. The jury found Mrs Seddon Not Guilty.

18th of April 1912, Seddon was hanged at Pentonville by John Ellis. Seddon protested his innocence to the end.

Watch a Youtube video about the case here >>.