Ernest Wright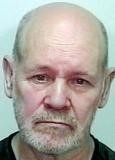 AKA
Les
DOB
1942
Occupation
Taxi Driver
Kill Total
2
Kill Place
Aylesbury &
Bradford
Kill Date
1971 & 2009
M.O.
Victim
Trevor Hale, Neville Corby - 42
| | |
| --- | --- |
| Court | Newcastle Crown Court |
| Judge | Mr Justice Openshaw |
| Prosceution | Richard Mansell QC |
| Defence | Robert Smith |
| Case No: | T20097436 |
1971
, Ernest Wright beat Trevor Hale to death with an iron bar in Aylesbury, Buckinghamshire he then tried to burn his body in a shallow grave. Wright had been having an affair with Mr Hale's wife, and wanted the husband out off the way.
1973
, Caught after being on the run, Wright was sentence to life imprisonment for murder.
1999,
Wright released on a Life licence.
He met and set up house with Melissa Crocker, the disabled mother of Craig Freear.
Ms. Crocker had her disability benefits paid into her sons bank account,. but when Wright came along, the arrangement changed, a huge family argument erupted.
Monday 30th March 2009
, Ernest Wright, Disguised with a mask, took a sawed-off shotgun to the home of Neville Corby aged-42, and his partner Craig Freear, aged-31, in Ashbourne Road, Bradford.
He confronted Mr. Freear in the front garden as he was setting off for work Wright followed him into the house, where he fired shots at both men.
The couple escaped upstairs as Wright shot Corby in the chest, Freear was shot in the shoulder before he managed to escape through a bathroom window.
Wright charged upstairs then blasted a hole through the bedroom door where Corby was hiding which hit him in the chest. Corby was then shot again in the shoulder before Wright clubbed him in the head with the shotgun and fired one final point-blank shot which severed the already dead man's jugular vein.
Wright then left the house using Craig Freear's car and collected Freear's mother Melissa Crocker from their flat in Shipley. The pair then drove to a solicitor's office in Leeds to take out an injunction against Freear and Corby. Wright then went into hiding.
A few weeks later Wright wrote to police saying the murder was "
Nowt to do with me
".
Police found him in a house a few doors away from his own home and arrested him.
DNA evidence linked Wright to a shotgun cartridge found on the stairs at the Bradford property
2nd March 2010,
The trial started at Newcastle Crown Court.
Wright denied murder, attempted murder, and two charges of having a firearm with intent to commit murder.
The jury were not told about Wrights' previous murder conviction.
29th March 2010,
68-year-old Wright was given 4 life sentences for murder, the attempted murder of Craig Freear and related firearms offences.
The judge told Wright he will spend the rest of his life behind bars.
This puts Wright on the Home office list of prisoners serving a "Whole Life Tariff", never to be released or considered for parole, see list
here >>.

21st May 2020
, Wright fell over in his prison cell and broke his hip. He went into the prison hospital, but while there caught pneumonia. he refused antibiotics.
17th July 2020
,, prison authorities confirmed that Wright was in the final days of his life and an end of care plan had been created.
4th September 2020,
Wright died in his sleep from heart failure and pneumonia.