Dennis McGrory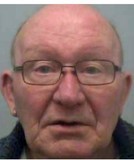 | | |
| --- | --- |
| AKA | |
| DOB | 1947 |
| Occupation | Pensioner |
| Kill Total | 1 |
| Kill Place | Islington, London |
| Kill Date | June 1975 |
| M.O. | Beating / strangulation |
| Victim | Jackie Montgomery-15 |
| | |
| --- | --- |
| Court | Huntingdon Crown Court |
| Judge | Mr Justice Bryan |
| Prosecution | Sarah Przybyiska |
| Defence | |
| Case No: | T20227106 |
Dennis McGroiry was a known heavy drinker with common outbursts of violence.
His girlfriend Josie had left him, he went on the hunt to find her. Further enraged by the fact that he had heard she has started a new relationship with a friend of his.
2nd June 1975, 28-year-old Dennis McGrory turned up at the house of Josie's niece, 15-year-old Jackie Montgomery, a young girl that he had previously made sexual advances to. Whether his plan was to just torture, and rape her no one except him knows. She had been hit around the head, there were stab wounds in her back, and through her heart and liver. There was a burn mark on her leg, from an iron, the flex of the iron was round her neck. Her jumper had been pulled up to reveal her breasts, her skirt also pulled up, her knickers and tights were on the other side of the room. Also on the floor was her bloodstained diary, with a piece torn out, the bit containing the new address for McGrorys' ex-girlfriend, and Jackie's aunt, Josie.
At 2:15am her father, Robert, discovered Jackie on the floor in the living room of the family home at 119, Offord Rd, Islington, London.
a post-mortem revealed Jackie had been stabbed several times, strangled with the flex of an iron, and received blunt force trauma injuries to her face.
15th July 1975, McGrory was arrested, and pieces of the ripped diary were found in his pocket. McGrory was charged with the rape and murder of 15-year-old Jackie Montgomery.
26th January 1976, Dennis McGrory stood trial at the Old Bailey in London. The prosecution case was mainly made up of circumstantial evidence, and at the end of the prosecution case the judge ordered the trial to be ended, and McGrory was acquitted.
2003, the new criminal justice Act allowed for a person previously acquitted, to stand trial for a second time, known as 'Double Jeopardy'.
The case had been kept on file, and a cold case review, requested by Jackie's family, was able to use DNA forensic testing that was not available in 1975. This showed a billion to one chance that McGrory was indeed the killer after swabs were taken from Jackie back in 1975 and kept in storage.
The case was sent to the Court of Appeal for application of a re-trial.
March 2022, Trial starts at the Old Bailey, but suspended when McGrory fell ill. Re-trial to take place later in the year.
Monday 19th December 2022, McGrory, now living in Milton Keynes, denied all charges, and refused to take the stand during trial at The old Bailey. He appeared by video-link from Peterborough prison, where he was being held. He was found guilty of the rape and murder in June 1975. The jury took just over an hour to find McGrory guilty.
Sentencing was scheduled to take place at Huntingdon Crown court in January 2023.
Friday 13th January 2023, appearing again by video-link, McGrory was sentenced to life, to serve at least 25-years and 126-days, by judge Mr Justice Brayn who passed sentence at Huntingdon Crown Court.
Dennis McGrory will be eligible to apply for parole in May 2048, when he will be 99-years-old.