David Copeland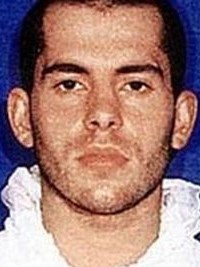 AKA
Nail Bomber
DOB
15 May 1976

(Taurus)

Occupation
Kill Total
3
Kill Place
London
Kill Date
1991
M.O.
Bomb
Victim
John Light-32

Nik Moore-31

Andrea Dykes-27
| Court | The Old Bailey |
| --- | --- |
| Judge | Michael Hyam |
| Prosecution | |
| Defense | |
By all accounts Copeland had a pretty normal and stable upbringing, teachers could not really remember him, he was just a 'normal lad'. He gained good GCSE's.
1997, At age-19, he started to isolate himself from family and friends, and started reading right-wing material.
He became a Neo-Nazi militant and joined two political groups: The British National Party and the National Socialist Movement.
1998, Copeland became the leader of the National Socialist Movement. this was just weeks before he carried out the 1999 London nail bombings.
Saturday, 17th April 1999, Copeland's first homemade nail bomb was denoted in Brixton, South London, an area largely dominated by London's black community. The Brixton nail bomb injured 48 people, as nails exploded in all directions

Saturday 24th April 1999, The second bomb was set off in Brick Lane, in the East End, an area largely associated with London's Bangladeshi community. The Brick Lane attack injured 13-people.

Friday 30th April 1999, Copeland's last and deadliest attack was at the Admiral Duncan Pub in Old Compton Street, in London's Soho area. This attack killed three people.
His victims at the Admiral Duncan pub were friends, 32-year-old John Light, Nik Moore, aged-31, and Andrea Dykes, aged-27, who was pregnant at the time.
when police arrived to arrest Copeland at his rented address in Sunnybank Road, Cove, Hampshire, he admitted to carrying out the attacks and showed police his room, which had two Nazi flags hanging on the wall, and a collection of newspaper clippings about the bombing spree.
Copeland was caught when a co-worker recognised him from CCTV footage shown on TV.
2nd May 1999, the Metropolitan Police Anti-Terrorist Branch charged 22-year-old David Copeland with three murders.
Copeland told police: "My main intent was to spread fear, resentment and hatred throughout this country.
"My aim was political. It was to cause a racial war in this country. There'd be a backlash from the ethnic minorities, then all the white people will go out and vote BNP."
3rd May 1999, Copeland appeared at West London Magistrates court and was remanded into custody.
Friday 30th June 2000, David Copeland was found guilty of three counts of murder and was given six life sentences at the Old Bailey, the judge stated he should serve a minimum of 30-years behind bars. His plea of guilty to manslaughter on the grounds of diminished responsibility was not accepted by the prosecution or jury.
2007, the High Court extended Copeland's minimum sentence to 50-years.
October 2015, Copeland was given an extra three years to his sentence after an attack on a fellow prisoner at HMP Belmarsh.
February 2021, in a story in The Sun newspaper, Copeland, now aged-44, has reportedly converted to Islam at HMP Frankland in Durham. He now likes to be called Saddam.