Daniel Gonzalez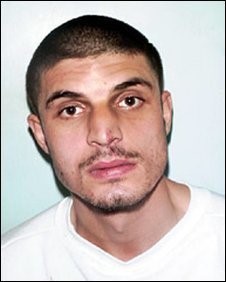 AKA
Freddy Kruger Killer
DOB
21 June 1980

(Gemini)

Occupation
Kill Total
4
Kill Place
Hove & London
Kill Date
2004
M.O.
Beating
Victim
Marie Harding-76

Derek Robinson-76

Jean Robinson-68



| | |
| --- | --- |
| Court | The Old Bailey |
| Judge | Ann Goddard QC |
| Prosceution | |
| Defence | |
| Case No: | |
Nicknamed Zippy, Gonzalez had a history of mental disorder. He was a bed-wetter until the age of 12. He had no friends, and spent his days on computer games and watching violent horror films such as the Friday the 13th films. He loved and idolised Freddie Kruger, from A Nightmare onn Elm Street.
He was repeatedly admitted to hospital for psychiatric treatment and in 1999 was diagnosed as being a schizophrenic. But he was discharged back into the community He had told his mother he had thought about killing people.
In 2003 and again in 2004 doctors decided Gonzalez was not mentally ill or a 'high risk
Wednesday 15th September 2004
, Daniel Gonzalez told Peter King, who was walking his dog with his wife in Portsmouth, that he was going to kill him. He was fought off and he fled to Hove where he then stabbed 76 year old Marie Harding who was walking near her home in Southwick, West Sussex. Gonzalez wore a hockey mask during the attack. After this, he returned home to Woking, where he remained that night, in a note to himself and his alter-ego he described the killing of Ms Harding as "Orgasmic, the best thing i have ever done in my life"
Thursday 16th September 2004
, The next morning he travelled north into London. He spent most of the day drinking, and at some stage stole two large kitchen knives from a department store.
Friday 17th September 2004
, 5:30 AM in Tottenham, he left 46 year old Kevin Molloy for dead after stabbing him in the face, neck and body with a pair of large knives .
At around 7:00 AM he made a forced entry into the Hornsey house of Christina and Koumis Constantino, who were asleep upstairs, but was fought off after stabbing the husband in the arm.
8:00 AM
he was now in Highgate, where he tried to gain access to several houses, witnesses reported seeing him randomly ringing doorbells. He succeeded in breaking in and murdering an elderly couple, the Robinsons, 76 year old Derek Robinson and his 68 year old wife Jean, were discovered by a decorator who arrived minutes after the attack, he first came across blood all over the walls of one room then he discovered the bodies. He saw Gonzalez naked and covered in blood, about to take a shower, Gonzalez fled through a window, The decorator fled the house to call police.
Gonzalez was later arrested at Tottenham Court Road tube station
Gonzalez told the police he wondered what it would be like to be Freddy Krueger, from the Nightmare on Elm Street horror films, for a day.
Tuesday 28th February 2006
, Trial starts at the Old Bailey in London.
Gonzalez admitted manslaughter on the grounds of diminished responsibility. He claiming he was a schizophrenic and voices in his head told him to act like Freddy Krueger.
A defence witness, Dr Edward Petch, a psychiatric consultant at Broadmoor Hospital, said during the trial that Gonzalez was a schizophrenic capable of "extreme, unprovoked and unpremeditated violence"
Thursday 16th March 2006
, The jury dismissed his story, taking just 90 minutes to reach a verdict, and convicted him of murder.
Friday 17tth March 2006,
Judge Ann Goddard QC sentenced Gonzalez to six life sentences, for four murders and two attempted murders and said he will never be released.
The judge said: 'You have brought unspeakable misery and grief to the families of those you killed.' He was placed on the list of prisoners never to be released, see list
Here >>
8th August 2007,
Using the broken edges of a CD case Gonzalez slashed his wrists and bled to death in his cell at Broadmoor.