Daniel Bartlam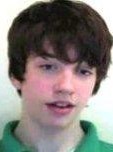 | | |
| --- | --- |
| AKA | Coronation Street Killer |
| DOB | 1998 |
| Occupation | Scholar |
| Kill Total | 1 |
| Kill Place | Redhill |
| Kill Date | April 2011 |
| M.O. | Beating |
| Victim | Jacqueline Bartlam - 47 |
| Court | Nottingham Crown Court |
| --- | --- |
| Judge | |
| Prosecution | |
| Defence | |
| Case No: | |
Daniel Bartlam was struggling at school, he was seeing a counsellor, whom he told he was hearing voices that were telling him to hurt people.

25th April 2011, After a row, 14-year-old Daniel Bartlam murdered his 47-year-old mother, Jacqueline Bartlam.
He attacked her with a hammer while she was in bed, then, padded her body with paper, covered it in petrol and set the lot on fire. He then escaped the house taking his dog and younger brother.
The murder had been well researched, police forensics found many incriminating files on the boy's computer that he had tried to delete, these included clips from TV soap opera's where fires had been started.
Daniel was obsessed with horror films and violent video games, but his main inspiration for what he thought would be a perfect murder came from a ­storyline in TV Soap Coronation Street.

23rd January 2012, Trial starts at Nottingham Crown Court, at the time an unidentified teenager.
Bartlam denied murdering his mother, claiming he had been provoked after a row, and therefore it was not murder.
under examination from the prosecution the court heard that Bartlam was obsessed with "how to get away with violent crimes" and had written a story that mapped out what happened that night.

He told the court, "In the story, I got away with it," .
"And I thought I could get away with it, in real life".

Thursday 9th February 2012, Bartlam is found guilty of murdering his mother.

Sentencing adjourned to allow for psychiatric reports.

At the trial neither the boy or his mother were identified. Reporting restriction were only lifted after sentencing

Monday 2nd April 2012, 15-year-old Daniel Bartlam was jailed for life with a recommended term of 16-years.
See video below for more ...