Benjamin Monk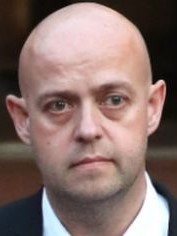 | | |
| --- | --- |
| AKA | |
| DOB | 1979 |
| Occupation | Police Constasble |
| Kill Total | 1 |
| Kill Place | Telford |
| Kill Date | 15 Aug 2016 |
| M.O. | Taser |
| Victim | Dalian Atkinson - 48 |
| | |
| --- | --- |
| Court | Birmingham Crown Court |
| Judge | Melbourne Inman QC |
| Prosceution | Alexandra Healy QC, |
| Defence | |
| Case No: | |
2002, 22-year-old Benjamin Monk joined West Mercia Police.
2011, Benjamin Monk was given a final written warning for 18-months, after being found guilty of gross misconduct during a West Mercia Police disciplinary hearing,
It had been found that Monk had failed to disclose a police caution for theft in 1997 - when he worked at Woolworths, he also failed to disclose that he was found drunk in 1999.
Despite this he continued working as a policeman.
15th August 2016, PC Ben Monk and PC Mary Ellen Bettley-Smith, had responded to reports of 48-year-old Mr Dalian Atkinson acting erratically at his fathers address on Meadow Close, Telford,. Shropshire at about 01:30am.
Monk fired his taser at Atkinson three times, twice it did not go off, on the third attempt he tasered Atkinson for 33-seconds,which is nearly six times longer than the recommended five seconds.. Once Dalian was on the floor PC Monk then kicked him twice, with such force that if left imprints of the pattern of the laces from the top of his boot on two separate areas of Mr Atkinson's forehead.
While Dalian was on the floor PC Mary Ellen Bettley-Smith, PC Monks partner and girlfriend struck him with a baton.
Dalian was taken to hospital but died an hour after the incident.
Dalian Atkinson had been a professional footballer, with English Premier League football club, Aston Villa, and Ipswich Town.

Tuesday, 4th May 2021, Monk went on trial, charged with murder, and manslaughter. He denied both charges at the start of the trial at Birmingham Crown Court.
PC Mary Ellen Bettley-Smith, was charged with assault causing actual bodily harm - which she also denied.
PC Monk claimed to have acted in self-defense and was scared by Mr. Atkinson and his erratic behaviour. Dalian had a heart condition, was on dialysis, and was smaller and lighter than the officer, as well as suffering from mental health conditions.
23d June 2021, PC Benjamin Monk was acquitted of murder but found guilty of manslaughter by the jury.
The jury at Birmingham Crown Court took 18 hours and 48 minutes to reach a unanimous verdict.
The jury were still deliberating at this time on the assault charge against Monk's colleague and then girlfriend, PC Mary Ellen Bettley-Smith.
The judge delayed sentencing of Monk, and stated he wanted time to consider the evidence before passing the sentence, this was after earlier hearing legal submissions from both prosecution and defense, aw well as victim impact statements from Mr Atkinson's family.
24th June 2021, The jury were discharged after failing to reach a verdict on PC Mary Ellen Bettley-Smith. who allegedly assaulted ex-footballer Dalian Atkinson. The CPS will consider if they will apply for a re-trial.
Tuesday 29th June 2021, Judge Melbourne Inman QC, at Birmingham Crown court, sentenced Monk to eight-years in prison for the manslaughter of Dalian Atkinson.