Barry Prudom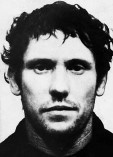 AKA
The Phantom in the Forest
DOB
18 Oct 1944

(Libra)

Occupation
Electrician
Kill Total
3
Kill Place
Yorkshire
Kill Date

1982

M.O.
Shooting
Victim
PC David Haigh 29




George Luckett
PC David Winter 52
An ex-soldier and shop keeper, raised in Leeds.

17th June 1982 In the early hours of the morning, 29-year-old PC David Haigh was on duty. By 7.30am, he'd been shot dead at a lonely beauty spot, Warren Point near Harrogate. He was still clutching his clipboard upon which he'd written the details Clive Jones, NFA (no fixed address), 18.10.44. Although he didn't know it then, in taking those details, David in fact solved his own murder.
Immediately, a major investigation was launched, although a full week passed before the scale of the operation became apparent.

23rd June 1982, Meanwhile, 70 miles away, a Lincolnshire man was also shot dead, though at first police did not link it to the Warren Point incident.

Prudom had broken into the house of George Luckett aged 52 and his wife, Sylvia aged 50. He tied them both up and shot both in the head, George died instantly, Sylvia survived but with brain damage, and no recollection of the incident.

An eagle-eyed officer in Wakefield was sorting through his outstanding warrants - he came across one for electrician Barry Prudom, wanted for attacking a motorist with an iron bar. The officer noticed his date of birth: 18.10.44 - the same as the elusive Mr Clive Jones. He quickly put two and two together.

Although Prudom gave false details when he was unexpectedly disturbed by PC Haigh, he couldn't instantly come up with a false date of birth, a fact which trips up many criminals and one which is well known to the police. Prudom had made a major error.

By then, police had compared the bullets which had killed both PC Haigh and the Lincolnshire pensioner and found they came from the same gun, so Barry Prudom became the prime suspect and the most wanted man in Britain.
Prudom, meanwhile, stole a car in Lincolnshire to return to the North York Moors where he went on the run, hiding in the expansive and impenetrable Dalby Forest.

Prudom was an expert in outdoor survival, but even so, hunger forced him into the small market town of Malton where he killed another police officer, Sgt David Winter. Police set up an incident room there, from where they managed the huge amount of press, TV and radio enquiries. The story was now international.
It was the first time a police PR man spoke to the media directly from the crime scene and set a precedent for the way police deal with the media during major investigations.
Police knew they had to keep the media on their side and the best way to do that was to give them regular updates. They knew Prudom was still in Malton; in fact, he was holding an elderly couple hostage in their home, but they wanted him to believe they were seeking him elsewhere. The safety of the public was uppermost in the police minds. The media reports were invaluable because they led Prudom to believe that the hunt was concentrated outside the town in Dalby Forest. There he'd earlier shot and injured another policeman. If he'd known police were getting close to him, he could well have harmed his hostages."
Believing the immediate pressure was off him, Prudom fled the house leaving his hostages unharmed. Minutes later, a firearms squad from Greater Manchester was on the scene and Prudom was told to give himself up. Stun grenades were thrown by the police and, on hearing a gunshot from Prudom's location, officers opened fire When firing subsided, Prudom was found dead in the hideout.

An inquest was held, an expert stated that Pruden had 21-shots to his body, but the shot that killed him was fired into his head at close range, the jury recorded a verdict of suicide.