April Bright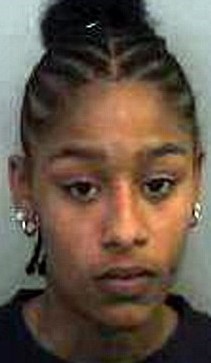 | | |
| --- | --- |
| AKA | |
| DOB | 1990 |
| Occupation | |
| Kill Total | 1 |
| Kill Place | Bristol |
| Kill Date | Sept 2007 |
| M.O. | Stabbing |
| Victim | Mohammed Nassan-35 |
| | |
| --- | --- |
| Court | Bristol Crown Court |
| Judge | Justice Roderick Evans |
| Prosceution | Robert Smith |
| Defence | Michael Fitton QC |
| Case No: | T20070659 |
Sunday 16th September 2007, 35-year-old Mohammed Muse Nassan was with a group of Somalian friends in a takeaway cafe, after a day watching the St Paul's carnival in Bristol.
Witnesses reported the men were being loud and annoying young girls and women, and trying to touch them, and making lecherous and inappropriate comments towards April Bright and her friends.
Later that evening April Bright was with friends at the Criterion pub, next door to the takeaway. The pub was packed with party goers, at one stage both April and Mohammed had gone into an alley at the side of the pub, moments later Mohammed had been stabbed in the neck.
April Bright had gone prepared for the night, by having a knife down her tracksuit bottoms, she would later claim this was fore self defense.
The pub he CCTV caught Mr Hassan, moments after he was stabbed in the alley, stumbling through the party-goers in the pub, many in fancy dress,, clutching his neck and collapsing on the steps outside the pub.
CCTV also captured April Bright gesticulating over his body, saying, "Let him die, he touched me up".
She then wiped the blood from her hands in the womens' toilet and continued partying in the bar.


3rd December 2008, At Bristol Crown Court, Bright admitted manslaughter but denied murder.
April Bright was found guilty of murder, Justice Roderick Evans said he hoped her minimum 12-year term would deter other teenagers from carrying knives.
He added, "The carrying of knives is a matter of grave public concern and the presence of knives on our streets in clubs, pubs and in the hands of young people of your age so often leads to serious injury or in this case death.
"A slight, an insult, an inappropriate behaviour, real or imagined, so often leads to the production of a knife and to the consequences in this case."