Anthoy Arkwright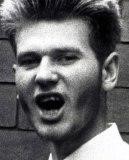 AKA
Tony
DOB
1968
Occupation
unemployed
Kill Total
4
Kill Place
Wath & Mexborough
Kill Date
August 1988
M.O.
Stabbing
Victim
Stanislav Puidokas

Raymond ford

Marcus Law

Elsa Konradaite
Court
Sheffield Crown Court
Judge
Mr Justice Boreham
Prosceution
Defence
Case No:
Click Here
Anthony Arkwright was one of five children, all of whom were abandoned by their mother at an early age. Arkwright had lived in various children's homes and local authority care from a young age, his entire childhood was very distorted and disturbed.

Arkwright was known to police as a petty criminal, and had previously served a 30-month youth custody sentence for burglary and disorder, he was frequently at odds with friends and neighbours. He had also served a 6 month jail term. Arkwright, had boasted to friends that one day he would be as famous as Jack the Ripper. Indeed while detained he would often be found in the prison library, reading stories about serial killers.
After his release he settled back into living in Wrath, Yorkshire, and although he worked at a scrap yard, he was rarely there, normally out drinking or committing petty crime.

One of Arkwright's neighbours, was a Raymond Ford, who was a severely depressed, and ill man, who was a heavy drinker, and lived in virtual squalor, he was a particularly favourite target of Arkwright.
He would often smash his neighbours windows just for the fun of it, or force dog faeces through his letterbox.
In mid-August 1988, Arkwright broke into the flat of Mr. Ford, and stole a microwave oven and a valuable antique clock.
Mr. Ford knew that Arkwright was the most likely suspect to have broken in to his home, and he reported his suspicions to the local police.

After getting the sack from his job, working in a Mexborough scrap yard, due to a bad attendance record, Arkwright went crazy. He then went on a 56-hour long killing spree, that earns him the title as a 'Mass murderer!'.

Friday 26th August 1988, at 4:30pm, After his sacking, Arkwright went straight to find his grandfather, whom he believed, (incorrectly), was in fact his father, and that he had been born in an incestuous relationship between his grandfather and mother.
He attacked his 68-year old Lithuanian born grandfather Stanislav Puidokas while he tended to his allotment in Ruskin Drive, Mexborough. Arkwright stabbed him in the neck, severing an artery, rendering the old man almost instantaneously unconscious, and then attacked him with an axe and a lump hammer before locking the body in a nearby shed. He then went to his grandfathers house to steal the old mans savings of £3,000, there it is believed Arkwright killed his grandfather's elderly housekeeper, Elsa Konradaite, but the case was never proved, and never reached court, and was ordered to lie on his file.

That night he visited several pubs in the area with local neighbours, showing his interest in becoming a public figure, by dropping hints about his crime. Neighbours later reported that he was behaving in a very odd way, even for him.

Saturday 27th August 1988, at 3am he was now back in Wath, and entered the flat of his neighbour, 45-year old ex-teacher Raymond Ford, Arkwright wanted revenge for being reported to the police for the break-in at the flat a few days earlier.
Completely naked, and with a Prince of Darkness devil-mask covering his face, he entered the flat and proceeded to stab Mr Ford 250 times, plunging his knife into every part of his body.
He gutted and disembowelled the corpse with a surgical precision which criminologists later said was remarkably similar to the technique used by Jack the Ripper.
Mr Ford's body was discovered three days later at his Wath home with his entrails draped around the room, some of his internal organs were scattered around the corridor and hallway.
Four hours later Arkwright was arrested on suspicion of the burglary at Mr Ford's house, and was kept in custody before being released to appear at court the following weekend, at this stage, police had no ideas that Arkwright had become a murderer only hours before.

Sunday 28th August 1988, Marcus Law died in a similar frenzied attack at his home in Denman Road, Wath, after an argument. Law was in a wheelchair after a motorbike accident, and completely defenceless against Arkwright.
He was savagely butchered, being stabbed over 70 times, before being left, with cigarettes stuffed in his mouth and ears, he also had his eyes gouged out and cigarettes placed in the sockets. Arkwright said it was revenge for all the cigarettes Lee had scrounged.

Monday 29th August 1988, On a routine visit to see her son, Marcus Law's mother called round, and discovered the horrific scene.
Police were called, they quickly realised that Arkwright was a suspect, a few hours later he was picked up and arrested on suspicion of murder.
At this stage they had little evidence against Arkwright, and he denied the murder.
Police wanted to speak to neighbours, in particular Raymond Ford, who Arkwright had burgled days earlier. They went to Denham Road where Arkwright lived to conduct enquiries.
PC David Winter went to the property of Ford, in Denham road, across the road from Arkwright's flat, there he discovered the horrific scene. Police now knew they were looking at double murder.
After his arrest Arkwright was help at HMP Hull, while there, he tried to show prison officers that he was mentally unfit, he was transferred to Rampton Secure hospital where psychiatric assessment showed he was of sound mind.

1989, At Sheffield Crown Court, Anthony Arkwright pleaded guilty of three murders, and, was jailed for life, with a recommended minimum term of 25 years in prison.
He showed no emotion when sentenced, and, has to this day, never given any explanation for his actions.

1990, The Home Secretary reviewed his case and imposed a whole life sentence.
Anthony Arkwright is therefore on the Home Office list of prisoners, never to be released, and serving a 'Whole life Tariff', see the full list here >>

19th February 2014, Arkwright along with killer Arthur Hutchinson appealed against the whole life tariff imposed on them, Three high court judges rejected the appeal, saying the governments "Whole Life tariff" was completely lawful.