Anthony Entwistle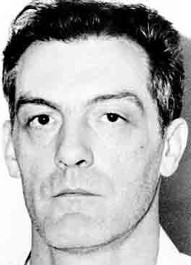 | | |
| --- | --- |
| AKA | |
| DOB | 1950 |
| Occupation | |
| Kill Total | 1 |
| Kill Place | Blackburn |
| Kill Date | April 1987 |
| M.O. | Strangulation |
| Victim | Michelle Calvy - 16 |
| Court | Preston Crown Court |
| --- | --- |
| Judge | Justice Rose |
| Prosecution | |
| Defence | |
October 1973, Entwistle attacked a woman on a canal towpath. He raped her, as he did so he tightened a stocking around her neck.
December 1973, Two months later he raped a 15-year-old girl, this time choking his victim with a tie. He was jailed for 10 years.
March 1980, only weeks after his release in March 1980 he attacked again. A woman was dragged from the street, dragged over a barbed wire fence, and indecently assaulted by Entwistle. He tightened a rope around her neck.
May 1980, he jumped a girl from behind and put a rope around her neck. Luckily, her cries for help alerted passer-by and she was saved.
June 1980, a taxi driver stopped, after seeing something suspicious, he saw Entwistle with his trousers around his ankles looming over a girl with a rope around her neck. Entwistle managed to escape.
Two more women were attacked but saved by passer-by before Entwistle decided to choose target closer home - the babysitter of his two young children, raped as his children were asleep in the room next door. Another woman was assaulted, and again with a ligature around her neck.
1980. sentenced for ten years for rape, released in 1987. Within two weeks after being released he went on to murder.

April 1987, 16-year-old Schoolgirl Michelle Calvy was strangled while being raped. Michelle was late for her bus and took a shortcut down a canal towpath, Entwistle spotted her and stalked her for a while until he was sure he would not be seen, he then picked her up and threw her in his car, he then drove to a well know 'Lovers Lane', there he raped her, according to his later statement she begged to be let go, but he could not afford for her to report him, so he pulled her tee-shirt up around her neck, and strangled her., He then just dumped the body out of the car and drove off.
When arrested he denied all knowledge of the crime, but after two days in custody he admitted the murder.

1988, At Preston Crown Court Entwistle is given a life sentence. The judge saying he should die in prison and never be released.
This put him on the 'Life means Life list', see list here >>

2009, A review by the High Court said Entwistle should NOT be on the Whole Life Tariff list and that he should be eligible for parole in 2012, after serving 25 years.

2012, The family of murdered schoolgirl Michelle launch a petition and an appeal to stop Entwistle being released.

2013, Entwistle denied parole.