Annie Walters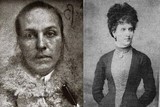 AKA
Finchley Baby Farmers
DOB
Sach 5 May 1867
Walters 1849
Occupation
Kill Total
1 - 20 ?
Kill Place
Finchley, London
Kill Date
1890 - 1902
M.O.
Various
Victim
Unknown
Amelia Sach ran a nursing home which offered a haven for unmarried mothers to have their babies in and which, for a fee, claimed it would care for the infant afterwards.

Sach told her clients that she could arrange for foster parents for the babies for an additional fee. Once the mother had left the baby with Sach, she would pass it over to 54- year-old Annie Walters who would murder it, either with a dose of Chlorodyne (a morphine based drug that causes asphyxia in babies or by suffocation, if the Chlorodyne didn't work, before disposing of the body in the Thames or burying it on a rubbish dump.

Annie Walters was neither literate or very bright and in 1902 decided to take one of the babies home. She lived in rented accommodation and her landlord was a police officer. She told him that she was looking after the little girl while her parents were on holiday and his wife helped her change the baby's nappy. The policeman's wife noted that the little girl was actually a boy. A few days later, Mrs Walters told the couple that the child had died in its sleep and she seemed genuinely upset about his death. A few months later she did the same thing again and this time her landlord became suspicious when this second child died. She was duly arrested and charged with the murder of the child. Further bodies were discovered from the information Walters gave the police and Amelia Sach was also now implicated in these murders. The police had enough evidence to charge them both with murder. Many items of baby's clothing were found by the police when they searched Sach's home and they may have murdered as many as 20 children.

15th and 16th of January 1903, They were tried at the Old Bailey , before Mr. Justice Darling. It took the jury 40 minutes to find them both guilty.

Tuesday 3rd of February 1903, Annie Walters and Amelia Sach, the "Finchley Baby Farmers" became the first women to be hanged in the new women's prison at Holloway, they were excecuted by William Billington and Henry Pierrepoint..

On the day of her execution Amelia Sach was in a state of virtual collapse in the condemned cell. Pierrepoint recorded in his diary the following:-
"These two women were baby farmers of the worst kind and they were both repulsive in type. One was two pounds less than the other (in weight) and there was a difference of two inches in the drop which I allowed. One (Sachs) had a long thin neck and the other (Walters) a short neck, points which I was bound to observe in the arrangement of the rope,They had to be literally carried to the scaffold and protested to the end against their sentences".

This was the last double female hanging in Britain.