Andrew Day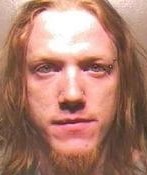 | | |
| --- | --- |
| AKA | |
| DOB | 1986 |
| Occupation | |
| Kill Total | 1 |
| Kill Place | Luton |
| Kill Date | May 2008 |
| M.O. | Stabbing |
| Victim | Ellen Leach-25 |
| Court | Luton Crown Court |
| --- | --- |
| Judge | John Bevan QC |
| Prosecution | Lynn Tayton QC |
| Defence | |
Monday 26th May 2008
, Andrew Day was the live-in boyfriend of mum-of-two, Ellen leach known as Becky. They argued about Becky meeting up with an ex-boyfriend, who was the father of one of her daughters, neither of whom lived with her. The row continued as they shouted about the name of a new kitten they had just got.
As the row reached its height, Andrew Day, a keen knife collector, stabbed his partner twice in the back with his "favourite" Bowie knife. He then tossed the knife out of the window while dialling 999.
Ellen Leach, aged-25, was found at her home in Truncals, in the Farley Hill area of Luton, by police and paramedics who were called to the house at about 1am following the domestic dispute.
When emergency services arrived to treat the seriously injured young mum, Andrew Day ran from the the scene to a nearby Shell garage where he concocted a story of someone else stabbing Miss Leach.
She was pronounced dead on arrival at the Luton & Dunstable Hospital, where a subsequent post-mortem examination found she died due to blood loss from a stab wound.
27th May 2008
, Her partner, Andrew Day, aged-22, was charged with her murder. He appeared before Luton Magistrates Court on Tuesday morning, and was remanded in custody.
12th January 2009, trial starts at Luton Crown court, before judge John Bevan QC, Day admitted stabbing Becky, but denied murder. Day's defences were diminished responsibility and provocation, and that he denied intending to kill or cause grievous bodily harm to his girlfriend.
Wednesday 21st January 2009, At Luton Crown Court Andrew Day is found guilty of murder, the jury took just 8-hours to reach the guilty verdict.
During the trial, he admitted stabbing Ms Leach twice in the back, but said he had "exploded" after she made a particular comment about his mother. The court was told by a psychiatrist that Mr Day was diagnosed with having Intermittent Explosive Disorder, explaining his violent action
He was sentenced to life imprisonment with a minimum term of 15-years before he can be considered for parole.