Albert & Alfred Stratton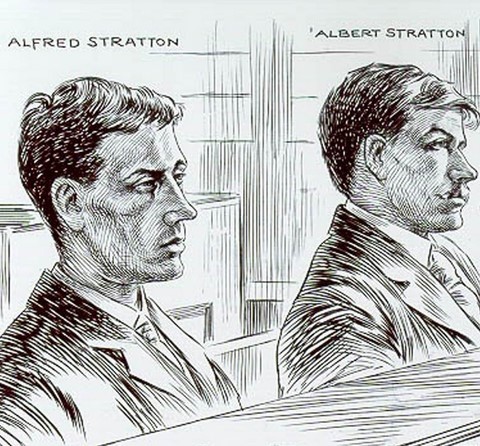 AKA
Mask murders -

Deptford murders

DOB
Albert-1884

Alfred-1882

Occupation
Kill Total
2
Kill Place
Deptford
Kill Date
March 1905
M.O.
Strangulation
Victim
Thomas Farrow-71.

Anne Farrow-65
Court
The Old Bailey
Judge
Prosecution
Defence
H.G. Rooth, Curtis.

Bennett. Harold Morris
A case that became well known as it was the first murder convictions obtained by the use of fingerprint evidence.
Alfred, twenty-two years old, and his 20-year-old brother Albert lived in Deptford and both had criminal records for burglary and housebreaking.

Monday, 27th March 1905, Thomas Farrow was a local shop-keeper, who lived over his shop at 34 High Road, Deptford, with his wife, Ann. It was Mr Farrow's habit to open his shop early in the morning, so that when his young assistant, William Jones, arrived for work about 7.30am the lad was not alarmed to find the shop door open. When he entered, however, there was no sign of anyone in the shop and no response to his calls. He walked through to the back room and there discovered the battered body of his employer, lying in a pool of blood.
Mrs Farrow was found in bed, unconscious, but she died in hospital three days later. Robbery was the obvious motive. Two black stocking masks were found and the cash box had been forced open and lay empty on the floor. On the cash box was the clear impression of bloody right thumbprint.

Frederick Fox, investigating the killings, surmised that it was likely that, as the assailants had worn masks, they were local men. Henry Jennings and his eleven-year-old assistant, Edward Russell, told police that they had seen two men hurry out of the shop about seven-fifteen on the morning of the murder.
Local villains were rounded up and their alibis checked. Alfred's girlfriend, Hannah Cromerty, sporting a fresh black eye, was interviewed and told officers that the brothers had been out all of the previous Sunday night and that Albert had dyed his brown shoes black and had destroyed the coat he had been wearing. The brothers were arrested the following Sunday. Alfred's thumbprint was found to match the one found on the cash box with eleven points of resemblance.

May 1905, The pair appeared at the Old Bailey, despite the defence's assertion that the science of fingerprinting was unreliable, the jury were convinced and returned a guilty verdict. The pair were sentenced to death.
23rd May 1905, John Billington, Henry Pierrepoint and John Ellis hanged them together with each brother blaming the other.