Ahmad Otak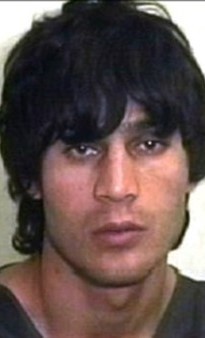 AKA
DOB
1992 ?

()

Occupation
Kill Total
2
Kill Place
Wakefield
Kill Date
March 2012
M.O.
Stabbing
Victim
Kimberley Frank Samantha Sykes.
| | |
| --- | --- |
| Court | Leeds Crown Court |
| Judge | Justice Coulson |
| Prosceution | Richard Mansell QC |
| Defence | Jonathan Turner QC |
| Case No: | T20127162 |
2007, Ahmed Otak, of Linton Road, Wakefield, arrived in the UK from Afghanistan in 2007 and was granted humanitarian protection to stay in Britain. It is possible he lied about his date of birth to ensure he was allowed to stay.
Otak had a turbulent relationship with his girlfriend Elisa Frank, who he met while in care, he became increasingly possessive with her, threatening to kill her if she left him.

February 2012, Ms Frank broke off their relationship.

10th March 2021, Otak went to his girlfriends sisters flat, Kimberley Frank's flat with a kitchen knife that he bought that same day and stabbed her 15-times as her sister was made to watch. At one point he stood over Kimberley Frank's body, laughed, licked blood from the knife and spat at her body.
He then tied Elisa to a chair with some flex and made her call her friend Samantha Sykes, when she arrived he attacked her as well.
Otak then abducted 19-year-old Elisa Frank, and drove to Dover in a bid to flee the country.
She only escaped when Otak was attempting to arrange passage pout of the cpountry, she alerted a member of the public who called the police.
Saturday 10th March 2012, After the call from a member of the public, who raised concern police went to a flat in Barden Road, Eastmoor, Wakefield, West Yorkshire. The bodies of two young women were found.
It was later confirmed that the bodies were those of 17-year-old Kimberley Frank and 18-year-old Samantha Sykes.

Sunday 11th March 2012, Post-mortem examinations revealed Miss Frank, who lived in Barden Road, Wakefield, and Miss Sykes, from Horbury, also in West Yorkshire, died as a result of multiple stab wounds.

Monday 12th March 2012, Otak was arrested and charged with double murder. He was also charged with kidnap and false imprisonment.

Tuesday 13th March 2012, At Wakefield Magistrates Court, he was remanded in custody to appear later in the week at Leeds crown court.
5th October 2012, at Leeds Crown Court, Otak pleaded guilty to murdering the two teenage girls in March 2012.
9th November 2012, Ottak sentenced to life, with a minimum term of 34-years behind bars.
He will be eligible for parole in November 2046.
See the judge's sentencing comments
Here >>