Ada Chard-Williams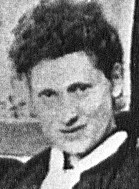 | | |
| --- | --- |
| AKA | |
| DOB | 1876 |
| Occupation | Baby farmer |
| Kill Total | 1 |
| Kill Place | London |
| Kill Date | Sept 1899 |
| M.O. | Beating & Strangulation |
| Victim | Selina Jones-21 months |
| | |
| --- | --- |
| Court | |
| Judge | |
| Prosceution | |
| Defence | |
Ada Chard-Williams had what seemed like a nice little business. She would help out poor unfortunate women who could not take care of their babies by offering to take them off their hands for a fee. She would then find suitable homes for those children, passing them on with a smaller fee. It was a lucrative trade, but Mrs Chard-Williams knew how to make it even more lucrative.

Florence Jones was a young, unamarried mother who simply could not take care of her daughter, Selina. She therefore read with interest the advertisement in her local newspaper, offering to adopt a child, and so wrote off immediately to the advertiser, a Mrs Hewetson, at an address in Hammersmith.

What Florence could not know was that this address was a newsagents where Mister Chard-Williams picked up all the mail addressed to Mrs Hewetson, at a cost of one penny per item. In due course, a reply was sent off to Miss Jones, terms were discussed and agreed.
31st August 1899, the young mother met Ada Chard-Williams who was still masquerading as Mrs Hewetson.
The meeting took place at Charing Cross Station and Florence was shown a house in Hammersmith where workmen were busy. She was told that this was the home where her child would be taken care off, once the alterations were complete.
Florence noted down the address as she still owed Mrs Hewtson £2 of the £5 fee they had agreed on, and Florence was an honest woman.
Florence finally handed over her daughter, some baby clothes, and the sum of £3 in cash.

When Florence Jones finally made the trip back to Hammersmith, in order to pay the final £2, there was no trace of her child or Mrs Hewetson. Florence reported this to the police and an investigation began.

The first port of call for the police was the newsagents shop. Here they determined that Mrs Hewetson was in reality Mrs Chard-Williams, but found that the home address she had given was false. For some time, the investigation got nowhere fast.
27th September 1899, the body of a small child was washed up on the banks of the river Thames, in Battersea. The child was soon identified as Selina Jones. She had been battered and strangled.

Eventually the Chard-Williams' were traced to an address in Grove Road, Barnes, but unfortunately they had moved from that address in October, just before the police had arrived. However, to the surprise of the police officers on the case, it was not long before they were contacted by Ada herself.
5th December 1899,
Ada had seen newspaper reports of the child's death and wrote to the C.I.D, and confirmed that she had indeed been operating as a baby farmer, but denied any involvement in murder. She added that Selina had been passed on to a Mrs Smith of Croydon. Ada was nevertheless finally traced, arrested and charged, along with her husband, with the murder of Selina Ellen Jones.
12th February 1900
, trial starts at The old Bailey in London, Ada Chard-Williams charged with the murder of 21-month-old Selina Ellen Jones, she pleaded not guilty.
Perhaps the most damning piece of evidence at the trial was the method of disposal of the body. Little Selina had been tied up in a parcel and the string had been knotted in a rather peculiar fashion. Other parcels, containing clothing, were found at Ada's home and many of these had been tied in the same manner.
Ada Chard-Williams was found guilty of murder. Her husband, William, received a not guilty verdict, though the jury did state that they believed he was an accessory after the fact, a charge which was not pursued.
Wednesday 8th March 1900,
23-year-old Ada Chard-Williams was Hanged at Newgate by executioner
James Billington

.
Although Ada was charged with just one murder, other children's bodies had been found in the Thames and all had been tied up in parcels where the string was knotted in a rather unusual way.